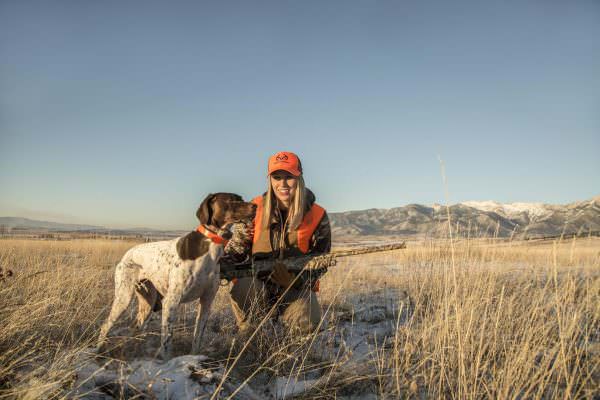 COLUMBUS, Ga. -(Ammoland.com)-​ Pheasants Forever & Quail Forever is excited to announce Realtree as a new national sponsor and a partner in conservation of "The Habitat Organization."
The partnership allows Realtree to market its leading brand of camouflage patterns to Pheasant Forever and Quail Forever's 145,000 members whose outdoor pursuits go well beyond upland hunting, while supporting the organization's overarching mission for wildlife habitat conservation.
"Not only do we represent the largest collection of upland hunters in the nation, but you'd be hard-pressed to find one of our members who doesn't already own a piece of Realtree clothing for their other outdoor pursuits," stated Gerry Cliff, corporate sales representative for Pheasants Forever & Quail Forever. "We encourage our members to exclusively purchase Realtree products for all of their camouflage needs. By doing so, they are supporting the mission of the nation's leading wildlife habitat conservation group."
"The Habitat Organization" has incorporated Realtree camouflage patterns for a number of years into its extensive collection of Pheasants Forever & Quail Forever merchandise.
For 2017, the organization's online store features seven Realtree pattern products; including the best-selling Realtree Xtra and Snow Laced Pheasants Forever camo hoodies.
With the commitment of Realtree as a new national sponsor and partner in conservation of Pheasants Forever & Quail Forever, members can look forward to more merchandise featuring Realtree designs.
"At Realtree, we understand that all wildlife requires quality habitat. Through this new partnership with Pheasants Forever and Quail Forever, we know that our commitment to conservation is going to help the uplands, the wetlands, and the forests where hunters spend their most cherished days; whether that's wearing blaze orange or camouflage," explained Ray Lynch, Realtree's vice president of marketing.
In addition to advertising in the Pheasants Forever Journal of Upland Conservation and the organization's websites and social media channels, Realtree will be the presenting sponsor for a new "First Bird" program in the coming year.
Members who submit photos of their first harvested pheasant or other upland bird will receive a commemorative collector's pin and a personal note from Bill Jordan, creator of Realtree brand camouflage.
Additionally, a member "brag board" of these first bird photos will be included in upcoming issues of the Pheasants Forever Journal.
About Realtree:
Realtree is the world's leading camouflage designer, marketer, and licensor with over 2,000 licensees utilizing the Realtree camouflage brand. Thousands of outdoor and lifestyle products are available in Realtree camouflage patterns. In addition, Realtree is committed to supporting individuals and groups that work to ensure our outdoor heritage, the conservation of natural places, and the wildlife that resides there. Realtree promotes its products and relationships widely on television, as well as through Realtree.com and many other outlets.
About Pheasants Forever:
Pheasants Forever, including its quail conservation division, Quail Forever, is the nation's largest nonprofit organization dedicated to upland habitat conservation. Pheasants Forever and Quail Forever have more than 145,000 members and 720 local chapters across the United States and Canada. Chapters are empowered to determine how 100 percent of their locally raised conservation funds are spent, the only national conservation organization that operates through this truly grassroots structure. Since creation in 1982, Pheasants Forever has spent $708 million on 517,000 habitat projects benefiting 15.8 million acres nationwide.