By Mike Fernald
Mike provides us a video demonstration of Real Avid Bore Boss Cleaning System .

USA –  -(Ammoland.com)- Your battle with traditional pull through bore cleaners is over.
Real Avid has done it again with another innovative and unique gun cleaning solution that makes our lives just a little bit easier.
The bore boss is a self-contained, take anywhere, easy cleaning, hassle-free, field-ready bore cleaner.
Each Bore Boss comes in an almost indestructible protective Flex-Case that stores and transports the cable cleanly, and protects the brush and mop from damage and debris that might otherwise render a traditional bore cleaner useless. The Flex-Case also functions as an ergonomic pull handle that attaches to a metal ball mounted to the end of the cleaning cable.
The cleaning portion of the Bore Boss is composed of an all-in-one pull through coated stainless steel cable followed by a phosphor bronze bore brush and a braided mop that loosens and removes carbon and fouling from the barrel of your firearm. The stiff cable is extremely easy to get through your barrel, which means no more wrestling with your gun to gravity feed a rope through to the muzzle. When you're ready to clean, just attach the cable to the handle and easily pull the tight fitting bore cleaner through the entire length of your barrel.
The Bore boss comes in every size for standard rifle, shotgun and hand gun calibers from .22 all the way to 12ga. The best part, is that no matter which size you may need, the price stays at an extremely affordable $9.99.
Don't ever be without the proper cleaning equipment while in the field again. Keep one of these in your pack, in your pocket, or in your truck to be sure you keep a piece of mind next time you're in the field with your beloved firearm.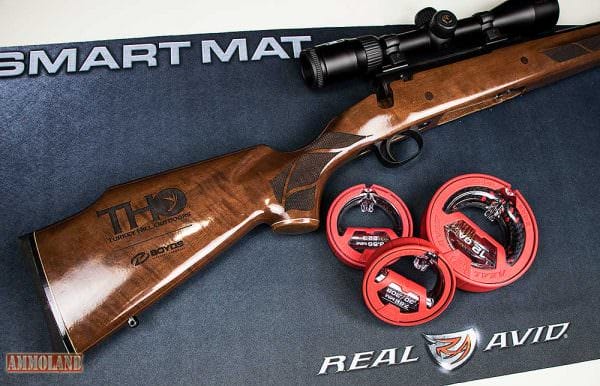 About Mike Fernald & Turkey Hill Outdoors:
Turkey Hill Outdoors, LLC is an organization devoted to sharing our experiences and love for the outdoors and conservation, through video production and photography. We are devoted to telling the stories and sharing the experiences that make the great outdoors truly so great. www.turkeyhilloutdoors.com