By Major Van Harl
If only in my youth I could have owned a SilverFire Scout Stove,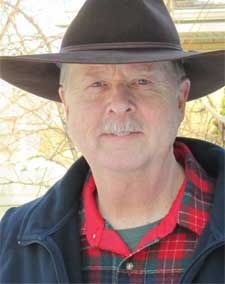 Wisconsin –-(Ammoland.com)- I remember as a young child thinking I was helping my mother cook over a campfire at Yellowstone National Park. We had to buy wood from one of the concessionaires so there was limited camp fire activity. I remember lots of smoke, spilled bacon grease with flare ups and extremely blackened frying pans.
While living in Scotland we had a very tiny stove in our kitchen. We also had two Aladdin kerosene space heaters that were our only regular source of household heating. I remember being assigned a cooking pot full of food and told to stand over the Aladdin stove and cook the contents since the small kitchen range was over tasked as my mother prepared the evening meal.
As I progressed in life to the Boy Scouts I had years of experience cooking at a campfire and blackening many a trail chef cooking set of pots and pans. Lots of messes at the camp site and lots of messes to clean up after I got home. To this day I still dislike scrubbing a charred cooking pot in the kitchen sink.
In 1965 I toured Europe with my parents and two sisters in a tiny VW square back station wagon. We cooked meals on the back bumper of the car using a small tin stove and cans of Sterno fuel.
During Infantry school it was all about trying to heat C-rations as fast as you could, so maybe you might get a "warm" meal once in a while in the field. The Army would not give us Trioxane Fuel Tabs, you either bought your own "tabs" off base at Ranger Joe's, in Columbus, GA or you improvised. You had to take an empty C-rat can and made a field expedient stove to burn the trioxane in. You could boil water in a canteen cup rather rapidly but trying to simmer your main meal item over trioxane was a challenge.
We also just punched a hole in the C-rat can, stuck it in the cardboard box the meal was shipped in and burned the box. If you did not blow up the C-rat can from heat generated over-pressure you might have a warm entree. Of course you had to open the can, while it was still hot.
I have this thing for Rocket Stoves. I believe in time of crisis that the three most important things are: a firearm & ammo, lots of non-perishable food and a rocket stove.
SilverFire Scout Stove
I have a full size SilverFire Survival Rocket Stove (www.silverfire.us/) and it really is an excellent stove, but if you are running for your life with just a backpack full of food and ammo there is no room for the size and weight of this stove. However the answer to your on-the-run from "walkers" ability to boil safe drinking water, cook your food, stay warm and even have some emergency light is another Silver Fire stove, the Silver Fire Scout Stove  .
The SilverFire 304 Stainless Steel Scout is the stove I should have had during all those days in Boy Scouts, Infantry training, camping and hiking in Alaska, during desert warfare training and functioning at my farm when the power goes out. Finally, I have one now and I have to admit the Silver Fire Scout is the slickest stove you can own that does not need any type of man processed fuel. Small sticks, leaves, twigs, grass or just about any bio mass you can come up with will burn in the Silver Fire Scout.
When speaking with Todd Albi, the designer of the Scout, he wanted to stress this stove is a minimalist type of stove. It has the footprint of a CD disk, is 2 1/2 inches tall when collapsed and weighs 12 ounces.
As I said this stove would have been nice to have back in my desert warfare training days, where there was limited fuel lying on the ground. Lots of sand but not lots of trees to chop up for fire wood. I have never been in a desert environment where there was not some kind of scrub plant growth on the ground or GI trash that I could use as fuel for the Silver Fire Scout. The "Scout" has a very skimpy appetite for fuel and will consume almost anything that will burn.
Unlike rocket stoves that have the "L" shaped burn chamber that you feed fuel in from the bottom, the SilverFire Scout Stove is a top loaded biomass fuel consuming gasifier stove. As the burning fuel creates gases those gases get "recycled" and provide more efficient burning of your limited fuel. This process also cuts the smoke to bare minimums. When you are on the run from "walkers" not giving away your hidden position with your cooking smoke can be a lifesaver.
Less smoke also means less of a mess when cleaning your cooking gear.
Depending on your fuel load in the "Scout" you can get a few minutes of burn time, just enough to boil some water for a hot drink or you can pack the stove with fuel and achieve close to two hours of cooking time. No matter how much or how little you fill the Scout Stove with, as you start your fire you can always add any type of handy fuel to prolong the burn time.
In a crisis your "white gas" for Coleman style stoves and lanterns will disappear very quickly. Or, the propane cylinders, both refillable and disposable that you use in your selected type of cooking devise will run dry. Your kerosene lamps and stoves also need processed commercial fuel. Even your charcoal for the backyard barbeque is gone after only a few uses to cook at home in an emergency.
Rocket stoves can burn almost anything. The Silver Fire Scout also burns almost any type of biomass fuel, uses less of the fuel, and burns what little fuel you have more efficiently. Most importantly you can take this little jewel of the survival world literally anywhere you might need while on the run from a crisis.
In a disaster situation, if you plan on staying put and not running to the hills for safety then I suggest you get a Silver Fire Survival rocket stove. Now if you have to bug out and you have a vehicle then I strongly suggest you take this stove with you.
If you have to get out of Dodge in a hurry and can only take what you can carry on your back, then I truly and most sincerely recommend you have a Silver Fire Scout stove. You can order this stove with a stainless cooking pot that the stove nests inside.
The Silver Fire Scout stove is small, it is light, it is extremely efficient using what limited fuel you can feed it and it will save your life.
Just wanting to survive a crisis is not enough. Everyone wants to survive. You have to have the strong will to survive, but you must have the skills to survive and you absolutely must have the tools to survive.
You cannot dial 911 in a crisis and expect someone to deliver you a hot meal. The truth of the matter is the emergency dispatcher on the other end of the 911 phone call has most likely already been bitten by a "walker."
With food, firearms, a well made backpack to carry your gear in, a quality pair of boots, a strong knife and a Silver Fire Scout stove you have the basic tools to stay alive and ahead of the hordes of people who walk through life unsuspecting and unprepared. These people quickly fail in a crisis.
You cannot fail in a crisis, you may not get a second chance.
The Silver Fire Scout stove is a necessity in your arsenal of survival tools.
If you are a member of the US Department of Defense and expect to deploy anytime in your military career you must have a Silver Fire Scout stove. It is as simple as that.
Major Van Harl USAF Ret
[email protected]
About Major Van Harl USAF Ret.:Major Van E. Harl USAF Ret., a career Police Officer in the U.S. Air Force was born in Burlington, Iowa, USA, in 1955. He was the Deputy Chief of police at two Air Force Bases and the Commander of Law Enforcement Operations at another. He is a graduate of the U.S. Army Infantry School.  A retired Colorado Ranger and currently is an Auxiliary Police Officer with the Cudahy PD in Milwaukee County, WI.  His efforts now are directed at church campus safely and security training.  He believes "evil hates organization."  [email protected]