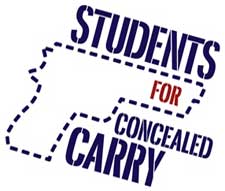 AUSTIN, TEXAS –-(Ammoland.com)- In response to an online advertisement for bulletproof vests emblazoned with the logos of colleges in campus-carry states, Students for Concealed Carry (SCC) Southwest Regional Director Brian Bensimon asked, "Is it just colleges, or do they do NFL teams too?"
After being informed that the ad is a parody produced by anti-campus carry activists, Bensimon added, "But they had to build prototypes for the commercial—do you know if they're going to keep those or sell them or what?"
SCC Assistant Director of Public Relations Michael Newbern was asked to provide a more substantive analysis of the publicity stunt but was too busy trying to contact the non-existent body armor company about regional franchise opportunities. He did mutter something about "Midwest gun shows" and a "veritable goldmine," but he was talking too fast for the quote to be transcribed.
A substantive quote was finally elicited from SCC Texas Legislative Director Allison Peregory, who—after a few choice words about her easily distracted male colleagues—said, "As a sequel to the dildo protest, Student Body Armor works; though, the concept might have been more impactful nine months ago, before the state of Texas cruised through its first two semesters of campus carry, without anybody being shot or threatened or attempting suicide as a result."
Because no American college has ever seen a mass shooting or a resulting assault, suicide attempt, or fatality while allowing the licensed, concealed carry of handguns in the institution's hallowed halls, Peregory suggested that body armor might make more sense in non-campus-carry states.
"Just counting the on-campus spree shootings since 2007," she said, "I can think of at least 200 people at non-campus-carry colleges who could have used a product like this."
Peregory had more to say on the subject but had to leave to take a phone call from Newbern and Bensimon, who wanted to discuss a unique investment opportunity.
ABOUT STUDENTS FOR CONCEALED CARRY
Students for Concealed Carry (SCC) is a national, non-partisan, grassroots organization comprising college students, faculty, staff, and concerned citizens who believe that holders of state-issued concealed handgun licenses should be allowed the same measure of personal protection on college campuses that current laws afford them virtually everywhere else. SCC is not affiliated with the NRA or any other organization. SCC is a serious organization that occasionally resorts to satire such as the mock press release featured above. For more information on SCC, visit ConcealedCampus.org or Facebook.com/ConcealedCampus. For more information on the debate over campus carry in Texas, visit WhyCampusCarry.com or tweet @CampusCarry.