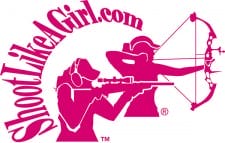 ATHENS, Ala. -(Ammoland.com)- Shoot Like A Girl's state-of-the-art, 53-foot mobile range will be on location at Cabela's May 12th and 13th in Lonetree, Colo.
It will be a perfect opportunity to grow the number of women in shooting sports through empowering them with the confidence that is instilled after shooting in a controlled environment, under the guidance of trained female instructors.
Inside the range, women are afforded a free opportunity to gain experience in handling and shooting handguns, long guns and compound bows using state-of-the-art technology.
Inside the mobile range, women are guided through a revolutionary introduction process, called the Test Shots and Test Flights by Certified National Rifle Association instructors and archery coaches.
Onsite, at the Shoot Like A Girl Gun Counter, attendees can also compare a variety of firearms including revolvers, semi-automatic pistols, shotguns, and rifles from their firearms partners. New and experienced female shooters are encouraged to visit.
"We are growing the number of women who participate in shooting sports. Shoot Like A Girl produces remarkable results – 90 percent of the women who go through the trailer will commit to buying a gun, and 56 percent commit to buying a bow," said Karen Butler, president of Shoot Like A Girl.
Shoot Like A Girl is made possible because of Corporate Partners, including Cabela's, that are equally committed to its mission.

Shoot Like A Girl's Schedule for the first half of 2017:
February 9-10 – Cabela's @ Huntsville, Ala.
February 11-12 – Cabela's @ Fort Oglethorpe, Ga.
February 25-26 – Cabela's @ Greenville, S.C.
March 11-12 – Cabela's @ Gainesville, Va.
March 25-26 – Cabela's @ Fort Mill, N.C.
April 8-9 – Cabela's @ Oklahoma City, Okla.
April 27-30 – NRA Annual Meeting @ Atlanta, Ga.
May 12-13 – Cabela's @ Lone Tree, Colo.
May 20-21 – Cabela's @ Tualatin, Ore.
June 3-4 – Cabela's @Billings, Mont.
June 10-11 – Cabela's @ Rogers, Minn.
June 24-25 – Cabela's @ Bowling Green, Ky.
For sponsorship information or to learn more about SLG2, visit Shoot Like A Girl online, or visit at Facebook and Twitter.
About Shoot Like A Girl:
Shoot Like A Girl has become and remains an industry leader in growing the number of women in shooting sports by giving women across the country the experience of shooting a pistol, rifle, and bow in a safe controlled women friendly environment, that empowers them with the confidence they can shoot.
Please recognize the following Shoot Like A Girl Corporate Partners who enable them to grow the number of women in shooting sports and change lives, one shot at a time:
Cabela's, Ruger, Smith & Wesson, Beretta, Charter Arms, Colt, GLOCK, Magpul, Taurus,Weatherby, Savage, PelterSport, Truglo, Nikon, Trijicon, Thermacell, Mossy Oak, Danner, Rocky Mountain Elk Foundation, Beman, Federal Premium Ammunition, Hoppes, Mathews, Hoyt, BowTech, Bear, PSE, Neet Archery Products, S & S Outdoors, Legacy Sports, and PESA.