Mike Searson, reviews the all USA made, Clip point, fixed blade, SOG Pillar Knife.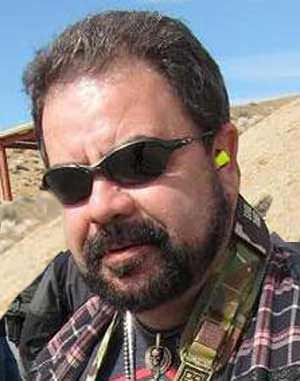 USA –  -(Ammoland.com)- I have been a knife guy longer than I have been a gun guy.
Growing up in NYC and being raised by two Irish immigrants meant that there was zero gun culture in my house beyond pellet guns and water pistols until my teen years. However, I received my first knife at the ripe old age of 7 as a gift from my father, who was also a lover of edged tools. ‌In spite of NYC's draconian knife laws, I carried and collected anything with an edge made of decent steel, or what I thought was decent at the time.
When I enlisted in the USMC about 30 years ago I got a bit more serious about my knives and my favorites were those made by SOG.
In the 80s and 90s they made some of the finest blades that you could lay hands on, like the Bowie, Pentagon, Tomcat, Desert Dagger, and Trident. It seemed like each design called to us. The construction, design and craftsmanship from Seki City, Japan never let us down. Much of this came from reading exploits of the MAC-V/SOG in post-Vietnam novels and articles in gun and "men's adventure" magazines of the time period like SOF, Gung Ho, etc. and the SOG knives used in theater that SOG, the company were replicating.
By the turn of the 21st Century the company shifted its focus to multi-tools and assisted openers. They kind of lost us for a short period of time, but came back with a vengeance the past few years with contemporary designs that brought back the quality of the models we grew up with.
One of these is the SOG Pillar Knife.
We used the SOG Pillar Knife as part of our Trails Found 2016 load-out and have been using it ever since. It has a 5″ Clip point blade made of S35VN steel, wickedly sharp from the box with an almost zero bevel grind. We found it fast in the hand and capable of tackling all cutting chores, far beyond slicing cardboard and opening mail. We've used the Pillar as a steak knife, vegetable chopper, to baton wood for the smoker to make brisket and on more than one occasion as a pry bar.
SOG Pillar Knife First Impressions
The handles are made of black canvas Micarta for a sure grip in every situation, and the lanyard hole is big enough to let you get an actual piece of para-cord through without fraying, wetting, lubing or otherwise forcing the cord through. We typically hate Kydex for sheaths, but the Pillar has one of the nicest we have seen. It includes numerous attachment points if you roll with MOLLE, paracord, etc., or their own belt-locking device which works just fine.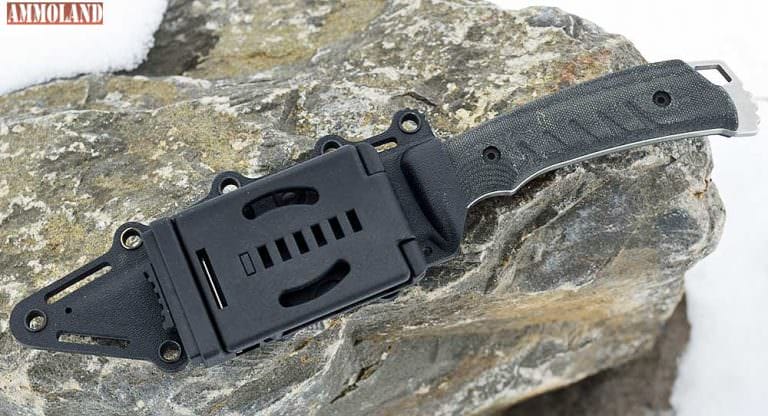 We were really impressed with the blade profile on this one and if anyone at SOG is listening, we think it would make for a very efficient folding knife, albeit on the large size.
The Steel
Some students of the blade (users and makers) might want to go after the steel as being unsuitable for a working knife. S35VN was developed as steel for use in kitchen knives. Hearing that from a few custom knife makers; I was prepared to hate the knife.
Then I got to thinking about the qualities of a good kitchen knife.
This means it has good resistance to corrosion and the elements. Stainless steel kitchen knives, after all, are intended to survive dishwashers without rusting. They typically hold an edge after much more use than a typical pocketknife and can be sharpened easily.
We expected to see increased wear on the edge and to this day, have not. We suspect that this may have to do with the Rockwell hardness and type of grind that SOG used. In 10 months of use we have only had to touch the blade up on a strop a few times and it still shaves arm hair.
Then again, it has a lot to do with what you use the knife for.
If you watch the clods on YouTube or read the blogs of some self-described knife testers you will see them destroying knives by hacking up cinder blocks, hammering them into rocks, stabbing 55-gallon drums and other tests that look impressive and they certainly are if the knife actually survives such a test.
But do any of us actually use our knives for such purposes?
If I need to pulverize a cinder block; I will grab a sledgehammer or nail it with a big bore rifle round. The knife will stay in its sheath. For those reasons, I say those tests mean very little for real-world use.
That is why for skinning game, opening boxes, battening wood for my smoker or fending off an attacker; my hand will go for the knife, in this case the SOG Pillar Knife. Although hitting a bad guy with a hammer or shooting him with a big bore rifle is probably not a bad idea.
In the end, I walked away more impressed with SOG Pillar Knife's S35VN steel than I thought I would.
SOG Pillar Knife Final thoughts
Sometimes a fixed blade is a lot more useful and handy than even the best custom folding knife. This is most often true when you're working in the field and one hand is occupied when you might be climbing or riding. We have had an aversion to carrying a small fixed blade like this for years as an everyday carry knife in a more urban setting, but truthfully, this design works well in this role.
The Pillar's CPM S35V and canvas Micarta are staples of the custom knife world, and we love seeing these materials put to good use in a factory piece. More importantly, the SOG Pillar had us take a look at some other models by SOG; we think the company is most definitely heading in the right direction with regard to design and materials. Best of all, the Pillar, like many other new SOG models, is 100% made in the USA.
SOG Pillar Knife SPECS:
Overall Length 9.9″
Blade Length 5″
Blade Thickness 0.16″
Weight 7.3 oz
Blade Steel Type S35VN
Blade Shape Clip Point
Handle Material Canvas Micarta
Handle Color Black
Hardness Rc. 59-61
The Pillar's MSRP is $254 (cheaper online) , and we've have even seen them in the $175 range with free shipping in a few places.
About Mike Searson
Mike Searson's career as a shooter began as a Marine Rifleman at age 17. He has worked in the firearms industry his entire adult life as a Gunsmith, Ballistician, Consultant, Salesman, Author and was first certified to teach firearms safety in 1989.
Mike has written over 2000 articles for a number of magazines, websites and newsletters including Blade, RECOIL, OFF-GRID, Tactical Officer, SWAT, Tactical World, Gun Digest, Examiner.com and the US Concealed Carry Association as well as AmmoLand Shooting Sports News.
Home page: www.mikesearson.com
FB: www.facebook.com/mike.searson
TWITTER: www.twitter.com/mikesearson