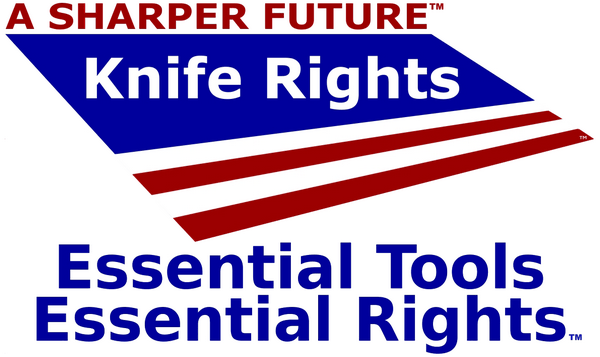 Colorado –-(Ammoland.com)- Colorado's switchblade and gravity knife ban repeal takes effect on Wednesday, August 9th.
Knife Rights Chairman Doug Ritter said, "we were very pleased to be able to support Senator Hill and Representative Lebsock in moving this bill through the legislature and delivering more freedom for Colorado knife owners." Knife Rights' Director of Legislative Affairs, Todd Rathner, traveled to Denver to lobby the bill at the invitation of the sponsors, overcoming objections raised by some legislators.
Knife Rights would also like to recognize Sen. Hill's constituent, retired Air Force Master Sgt. John Bloodgood, whose request was the inspiration for this bill and who did a great job supporting the bill in testimony at the bill's hearings.
WARNING: Automatic (switchblade) and gravity knives are still subject to Colorado's concealed carry blade length limitation of 3.5 inches or less.
WARNING: Unfortunately, while the state law has changed in Colorado, without state knife law preemption a significant number of municipalities in Colorado currently still ban switchblades, mirroring the old state law. Among them is the state's largest city, Denver, as well as Aurora, Boulder, Colorado Springs and Lakewood. No doubt others do as well and this patchwork of local bans is potentially waiting to trap unwary knife carriers.
On the other hand, solid legal arguments can be made that despite lack of express preemption, state law trumps local law in this case. In order to prohibit switchblades and gravity knives the local jurisdictions must show that banning these knives is a matter of unique local concern. That is a fairly high bar.
Moreover, an argument can also be made that despite the fact that Colorado's concealed carry permit is a handgun permit, the language used in these local ordinances may enable permit holders be allowed to carry otherwise prohibited knives that are state legal.
However, it should be noted that neither legal theory has been tested in court, at least specific to these knives. As such, you may want to avoid being that test case!
These cities whose municipal regulations are now out of step with state law should immediately eliminate their bans instead of waiting until a court decision or other events force them to do so.
About Knife Right:
Knife Rights is rewriting knife law in America. Knife Rights passed the nation's first repeal of a switchblade (automatic) knife ban in 2010 in New Hampshire and has since passed repeal of switchblade bans (and repealed other knife restrictions) in Alaska, Colorado, Indiana, Kansas, Maine, Missouri, Nevada, Oklahoma, Tennessee, Texas and Wisconsin.