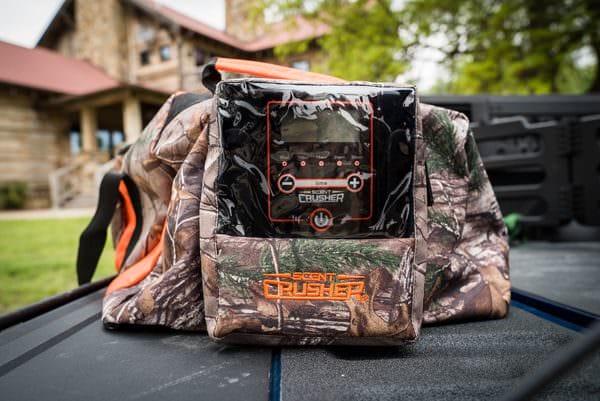 COLUMBUS, Ga. -(Ammoland.com)-​ The Scent Crusher Ozone Gear Bag in Realtree Xtra provides an easy and effective way for hunters to eliminate all smells and odors before and after the hunt.
This bag utilizes the power of ozone to quickly destroy all odors and bacteria that causes odors. Simply place your gear in the bag, zip it up and set the timer for 5, 10, 15, 20 or 30 minutes.
The Scent Crusher bag is complimentary to all carbon/silver-lined scent-control clothing and extends their life with reduced laundering. You'll never have to wash your clothes again to be scent free. The included ozone generator provides on-demand ozone with an automatic shut off after each use.
You can easily use the bag on the way to the hunt in the back seat with the included 12V car adapter or utilized at home with the 110 volt charger. You can also use the bag as permanent scent-free storage. The large heavy-duty bag features reinforced zippers, a strap and is specially coated to contain the ozone scent-killing power within the bag.
The Scent Crushing technology can be used for everyday items such as sports gear, work coats, boots/shoes, hats and gloves. The ozone generator is maintenance free. The bag measures 33.5"L x 15.7"W x 13.3"H, is airport/TSA compliant, and comes with a one-year warranty.
The Gear Bag is part of the complete odor-eliminating system by Scent Crusher:
Powerful Scent Crusher Ozone Technology destroys odors on clothes in 30 Minutes
Never Wash your clothes again
Use on 365 days a year on everyday items- sports gear, work clothes and shoes
Compliments Scent Control Carbon and Silver clothes and extends life
Sanitize your gear on the way to the hunt- includes 12V vehicle adapter
Large bag holds all of your gear- 33.5"L x 15.7"W x 13.3"H
Heavy Duty Zipper and Liners
Permanent Storage and Scent Control when not in use
Adjustable Shoulder Strap
20 Year life expectancy- Ozone generator is included and maintenance free
For more information or to purchase the Scent Crusher Ozone Gear Bag in Realtree Xtra, click here.
About Realtree:
Realtree is the world's leading camouflage designer, marketer and licencor with over 2,000 licensees utilizing the Realtree camouflage brand. Thousands of outdoor and lifestyle products are available in Realtree camouflage patterns. In addition, Realtree is committed to supporting individuals and groups that work to ensure our outdoor heritage, the conservation of natural places, and the wildlife that resides there.
For more information, visit their website.