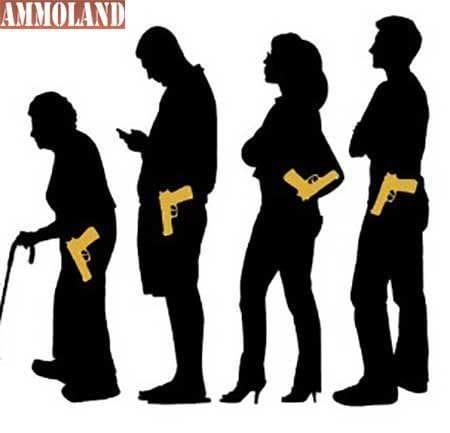 USA -(Ammoland.com)- In a welcomed but unexpected turn of events, the respective leaders of the Tennessee House and Senate have announced that handgun permit holders are going to be allowed to carry in the new legislative offices. According to a press release being distributed, these leaders stated:
"Carry permit holders will be allowed to carry their firearms into the Cordell Hull Building, the new home of the Tennessee General Assembly. Tennessee carry permit holders are among the most law-abiding demographics in our state. To receive a permit, a citizen must be fingerprinted, submit to a background check and receive firearm training. Permit holders wishing to carry their firearms into Cordell Hull will be required to present their permit at security. A thorough screening process will determine the validity of the permit. Once that validity is established, a permit holder will be allowed [sic] exercise their Second Amendment while visiting their state government." –Lieutenant Governor Randy McNally and Speaker Beth Harwell
It is not clear if the policy change will impact only the facilities in the Cordell Hull Building or if the new policy will also be effective in the Capitol building and legislative chamber facilities.
It is important to understand that this is only a policy change and that it lies almost entirely in the discretion of two state officials – the Lt. Governor and the Speaker of the House – at this point.
State law currently does not prohibit handgun permit holders from carrying their firearms with them in the Capitol or the legislative offices or facilities. The current ban is entirely at the option of the Legislature which has continuously enforced the ban by posting these taxpayer funded facilities pursuant to Tennessee's general statute that allows almost any property to be posted as a "gun free zone."
A similar move was discussed in 2016. In 2015, news reports reflected that an amendment was placed on a Senate bill which authorized handgun permit holders to carry in the legislature. That amendment was accepted and had the majority vote of the Senators.
However, the Republican controlled super majority in the House, under Harwell's total leadership, rejected the amendment and it was ultimately removed at the insistence of the Republican controlled House.
Then, in early 2016, news outlets reported that while Senate Speaker Ron Ramsey was still supportive of allowing permit holders to be allowed to carry in the legislature, the Haslam administration, the Tennessee Highway Patrol and ultimately, it appears, Beth Harwell, all came to oppose the idea.
According to one news source – the decision not to allow guns in the legislature at that time was entirely the decision of Beth Harwell which reported:
Plans to let state handgun-carry permit holders carry their weapons in the Tennessee Capitol complex misfired Wednesday amid apparent disagreement between Republican Senate Speaker Ron Ramsey and Republican House Speaker Beth Harwell over how to proceed.

Tennessee Highway Patrol officials wanted the two top officials to be in agreement before they would consider proceeding, according to Ramsey spokesman Adam Kleinheider. "They did not agree," said Kleinheider, who wouldn't elaborate. Harwell's spokeswoman, Kara Owen, said that from Harwell's "point of view, it's simply an issue of saving taxpayer dollars as the modifications to the building would have a cost associated with them."

Owen noted Harwell realizes "we're not going to be in this building [Legislative Plaza] much longer" with the General Assembly planning on moving in a few years from Legislative Plaza and the adjacent War Memorial Building to the now-vacant Cordell Hull State Office Building.

Because there were expected costs for "things that had to be done" in order to make Legislative Plaza and the Capitol physically capable of handling the situation, Owen said the speaker thought it best to wait until lawmakers are ensconced in Cordell Hull.
The Crime Prevention Research Center reports that at least 20 states have allowed citizens to carry firearms in the capitols for some time. Some states allow open carry of firearms by citizens even if they do not have a permit, such as Kentucky. Others may require that only permit holders can carry in their capitols.
While today's press release is good news for handgun permit holders, it is not clear if this rule will also enable employees who work in the legislature to be armed if they have a permit. It is believed that for years the Legislative Leaders and the Tennessee Highway Patrol have "looked the other way" when elected officials (such as legislators) carried personal firearms in the legislature despite the posted ban. (Note: Under TCA 39-17-1359, a violation of a posted ban is a Class B misdemeanor)
In addition, the question remains as to why Tennessee, which has been subject to a Republican governor, a Republican Lt. Governor, a Republican Speaker and which has had super majorities of Republicans in both houses of its legislature since at least 2011 has failed to take this step in the past but has instead treated handgun permit holders as perhaps 'too dangerous' to trust around the lawmakers for the last 7 years.
Yours,
John Harris
Executive Director
Tennessee Firearms Association
P.S. If you want to wage in on the battle to elect someone to the office of governor (there is only one who supports Constitutional Carry), the State Senate and the State House in 2018 – candidates who put the constitution first and who are true public stewards of your rights, please take a moment and go to the TFA's PAC website and make a donation so that we can raise the funds to restore our rights.