USA -(Ammoland.com)- If you're looking for something fun to do with your family this winter, the nearest ice-covered water might be the answer. Ice fishing is easy to learn, it doesn't take much equipment, and anyone—including kids—can catch lots of fish.
Many local waters were heavily stocked with fish this fall. Once the ice forms, the fish will be looking for an easy meal.
Randy Oplinger, sport fisheries coordinator for the Division of Wildlife Resources, says warm clothes and basic equipment are all you need to start making memories with your kids.
"On your first trip," Oplinger says, "your kids might enjoy sliding across the ice and tossing snowballs as much as they enjoy fishing. That's great and is one of the reasons ice fishing is so fun. But wait until they reel their first fish in and you see their eyes light up. That's when the fun really starts."
Oplinger picks the following waters as the best places to take your family fishing in Utah this winter. He also provides information about staying warm and safe on the ice, the basic equipment you'll need and a technique that should put plenty of fish on the ice.
Best Family Fishing Waters
This year, some of the best waters to take your family to are in northern and north-central Utah:
Hyrum Reservoir (rainbow trout, yellow perch)
Mantua Reservoir (rainbow trout, bluegill)
Rockport Reservoir (rainbow trout)
East Canyon Reservoir (rainbow trout)
Deer Creek Reservoir (rainbow trout)
Staying Safe and Warm
Wait until the ice is at least four inches thick, and it should be safe to walk on.
To stay warm and comfortable, dress in layers. "Dressing in layers allows you to remove or add clothes as the temperature gets warmer or colder," Oplinger says.
Wearing boots that are waterproof is another good idea. "As the day warms up," he says, "some water will start to form on top of the ice. Wearing waterproof boots will keep your feet dry and warm."
Basic Equipment
A short ice fishing rod and reel, some hooks and sinkers, wax worms or meal worms, an ice auger, and a large spoon or something you can use to scoop ice chunks that form in the hole you're fishing, are all you need to get started.
"All of the gear you need shouldn't cost more than $100," Oplinger says, "and it could easily cost less. With the exception of worms and an occasional hook, you only need to buy the equipment once. After you do, you can enjoy it for years to come."
Oplinger also encourages you to buy some small jigs, ice flies or small jigging spoons. Chartreuse and red are two colors that usually produce well in Utah.
"Even though chartreuse and red are usually the best colors to use when ice fishing," he says, "buy a variety of colors. That way, you'll have the color the fish want on the day you're fishing."
Because fish bite softly in the winter, buying items that will help you detect subtle bites is a great idea. Spring bobbers (a wire extension that attaches to the end or the top of your fishing rod) and various floats (also called bobbers) are among the items that will help you know a fish is on the end of your line.
Oplinger says rod and reel combos start at around $15, and the scoop, jigs, worms and spring bobbers are just a few dollars each. The most expensive item will be a hand auger, but you only need one per family. "Hand augers start at around $50," he says.
A Simple Technique
Once you have your gear, and you've drilled a hole in the ice, it's time to fish. Here's a simple method that can put plenty of trout and panfish on the ice:
Tie a small jig to the end of your line, and thread a meal worm or a wax worm on the jig's hook. After threading the worm, open the bail on your spinning reel, and lower the jig and worm until it touches the bottom of the water you're fishing. (When your line goes slack, you'll know it's reached the bottom.)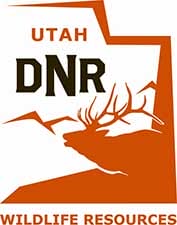 After the lure touches bottom, close the bail, and reel the lure until it's just a few inches off the bottom. Then, let it sit still and watch your bobber closely. It's also a good idea to occasionally "twitch" the rod, to make the jig move.
If a trout or panfish is in the area, there's a good chance it will swim in and take the jig. If your bobber starts to twitch, raise your rod, set the hook and reel your fish in.
"If you've waited a few minutes," he says, "and a fish hasn't taken your jig, reel it up a few inches, stop and start watching your bobber again. Keep doing that until you find the depth at which the fish are holding."
If you don't get any bites, pick up and move to a different location.
Fishing Reports
You can stay updated on where fishing is best in Utah on their website. You can also subscribe to the free reports here.
Ice Fishing Seminar
The basics of ice fishing were recently covered at a seminar in Salt Lake City.