USA – -(Ammoland.com)- Target Tiles improve first shot accuracy and shooting range safety.
Attention Shooters: Recent world events show you need to be ready for many challenging situations. When you go out in public, do you feel you are prepared or unprepared to protect you and your family? Just like having an airplane in your driveway doesn't make you a pilot and having a scalpel in your medical kit doesn't make you a doctor.
Well having a gun or a concealed carry doesn't make your ready. Make sure you are a better shot than the bad guy. Practicing with paper and steel can be routine and boring. Does 2D paper and steel targets mimic your 3D world? Well shoot with a purpose and have fun with 3D rubber Target Tiles. These Targets can be used to simulate more real-life situations and keep you engaged during your practice. Be wise and safe and be prepared.
This rubber shooting target encourages focus and reduces bullet shrapnel. They work for close range pistol practice and are ideal for beginners and expert shooters. These heavy-duty 3D rubber targets are great for;
Beginner >>> Expert
Practical Shooters and Tactical Shooters
Height
Order
Depth perception
Tempo
Hostage situations
Ocular Cavity
Active Shooter
Flashlight, Speed, Peripheral Vision Kim's Memory drills, etc.
Reduce the risk of getting hit with bullet shrapnel.
The 3D Target Tiles are made from almost 3 lbs of recycled rubber tire crumb. Their unique shape is ideal for both practical and tactical shooting. For most calibers, the bullet knocks down the target and goes into the berm with only minimal deflection. Unlike steel which can generate bullet shrapnel and deflect the bullet fragments back to the shooter.
The Target Tiles knockdown with bullets from a 22 to a 357-hollow point. They even work with rifle calibers, but they do not work with a 223. Since the use of steel targets is being reduced at an increasing number of ranges, the rubber targets offer a safer alternative.
Safe Knock Down Target
No Shrapnel
Reduced Lead Vapor
One shot one hit
Quiet
Simple setup
Weatherable
Work with 22-357 (Not .223)
The targets come in black and can be painted after either washing the surface with acetone on a rag or roughening the surface with sandpaper. Most spray paint and elastic coatings will adhere to the surface. The more rigid coatings will flake off after being hit and leave a location mark, while flexible coatings will only show an entry point.
After coating, they can be used from simple to difficult shooting practice. After being placed on shelving at different distances and heights, the shooter can create a variety of shooting setups with weatherable 3D targets.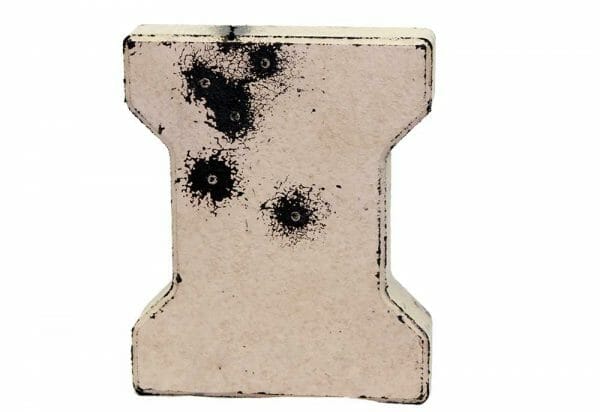 After painting the Target Tile with a flesh tone colored paint, they can be used for tactical training; they work for both ocular cavity, hostage situations. They don't make noise on impact for a correct tactical response.
These 3D targets can be stacked and layered for more difficult shooting. With two up front and next to each other, this leaves a hexagonal opening to shoot through at a third target placed behind the first two. This hexagonal opening can be made to have and up-down or left-right orientation by stacking the targets on top of each other. This will increase marksmanship needed to make a good shot and alter the tempo of practice. Thus, they work for beginner to advanced tactical training.
The Target Tiles are made with RMP's exclusive Wolverine Rubber. The extra steps used in processing result is a sturdy, durable and consistent product. The rubber is so tough it can stop a 45 caliber bullet in 3" of rubber. They can even be stacked together to make a custom gun rest.
Although, Target Tiles are a novel improvement over paper and steel targets we strongly recommend that you always get professional training. Select a shooting instructor who has been in real-world situations worse then you may encounter.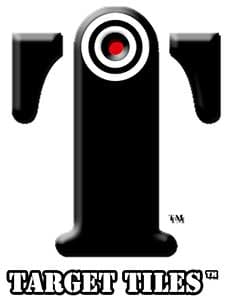 About Roll-Tech Molding Products LLC
Target Tiles are manufactured in Hickory, NC by Roll-Tech Molding Products. The company has been around for over 20 years. They specialize in taking recycled plastic and rubber and engineering them into other products. Essentially, giving a second life to material that would previously be headed to a landfill. The primary business is making wheels for the material handling and trash cart business. Their rubber wheels can be found on residential curbside trash carts and have a track record of being tough and durable. The compression molding technology used to form the rubber crumb into tires was redirected to make Target Tiles for the shooting industry.
Made in the USA.
Heavy Duty.
Made from 100% recycled rubber.
New product-New life.
Contact us:
Like us and purchase Target Tiles on Facebook @TargettilesUSA.
Purchase at : www.roll-tech.net/shoptargettile.aspx
Law Enforcement, Military, and Range Safety Officer on orders of over 100 Targets call 866-431-4515 ext. 303 and ask for George or Brandon