GREELEY, Colo. -(Ammoland.com)- Steiner announces the M5Xi riflescope as one of the first available with the all-new Multipurpose Sniper Reticle (MSR2) from FinnAccuracy.
The result of nearly two years of development, the MSR2 identifies target ranges quickly using the reticle at low, mid and full magnifications.
The reticle will be exclusively available in Steiner's German-made military series M5Xi 5-25×56 sniper riflescope. Built to strict military specifications, these scopes set the standard for performance and durability. When combined with the MSR2 reticle, the riflescope provides rapid ranging and target engagement at every magnification level.
The MSR2 takes advantage of the latest reticle lens etching technology for precise line and object weight balancing. The new reticle is smaller, slimmer and lets the shooter see more of the target at high magnification levels.
| Item Number: | 5550 |
| --- | --- |
| Length: | 16.6 in. |
| Weight | 36.3 oz. |
| Reticle: | MSR2 |
| Focal Plane: | 1st |
For more information about the new MSR2 reticle go to their website.
M5Xi series riflescopes are waterproof, fog proof, shockproof and as with all Steiner optics, they are covered by the industry-leading Steiner Heritage Warranty – Steiner's promise of the highest standards of quality, dependability and customer satisfaction.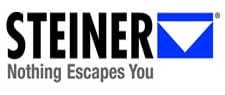 About Steiner:
For 70 years, Steiner has made trusted optics for life's defining moments. The successful pursuit and capture of these moments demands the fast and precise detection, location and identification of a distant objective. Whether the objective is wildlife, a marine bearing, law enforcement suspect or military combatant, Steiner products enhance an individual's most important sense, vision, so that on land or sea –– Nothing Escapes You.
For more information, visit the company website.