U.S.A. –-(Ammoland.com)- A father was explaining to his son that if you really want something of value and quality do not wait around in life hoping someone else will deliver the desired item. The father was called up on stage at his retirement ceremony to receive his promised gold watch after 40 years of service. When he opened the presentation box it was not the long desired Rolex he had gotten his lifetime hopes up for, it was a good brand name watch, but not the 40 years desired Rolex.
In his disappointment, he never wore the watch and left it to his son with instructions to always keep the watch, but never wear it. A physical reminder to not wait for someone else to deliver what you want. You have to earn the resources to acquire your desired quality item, and then go purchase what you want. Time waits for no man, even if it is monitored on a gold watch.
The traditional gold watch does not hold the desire or status for many of our younger generation. First off, most people do not stay with one employer for 30 or 40 years to earn that gold watch and they may not even wear a watch. Perhaps if there was a gold iPhone that could be presented and the retiree could tell time from the screen of a cell phone, that might work. But no, because as soon as the newest and latest gold iPhone came on the market the old one would be obsolete. It would have to be traded in or crushed for the value of the actual gold.
Bob Maw, the New Mexican owner of Republic Forge LLC, has a suggestion for those who want to reward themselves now with quality, and not wait around for someone else to disappoint with the wrong gift– acquire a Republic Forge LLC, 1911 semi-auto handgun. Mr. Maw makes these custom-ordered 1911 handguns. He does not manufacture them or mass produce them on a long assembly line by the thousands.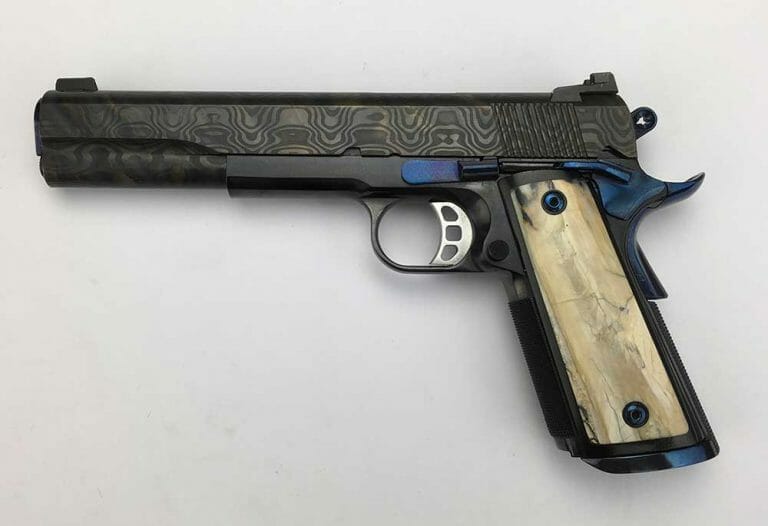 Consider rewarding yourself with a one-of-a-kind, custom-made 1911 handgun. A timepiece can only be watched and read. A Republic Forge 1911 custom made handgun can be shot for enjoyment, preserved for value and legacy and brought out in time of need to fend off evil.
Republic Forge makes custom 1911 handguns one gun at a time, by hand. In fact, in a good month, they are probably not going to make more than thirty Republic Force 1911 handguns.
Mr. Maw's crew is made up of seasoned gunsmiths and tool & die guys. They do not just assemble Republic Forge 1911 handguns, they hand fit each part. Every part of the handgun is machined from forged steel or bar stock. There are no casted parts, nor CNC machines. A major advantage to relocating Republic Forge to New Mexico is the large pool of machinists, tool and die craftsmen, gunsmiths, and skilled specialists who can design, develop and produce precision tools.
The 1911 handgun has been a desired tool during times of peace, and hostility for over one hundred years.
Mr. Maw is a US Army veteran who carried a 1911, 45acp handgun on active duty. He is a competitive pistol shooter and collector of 1911 handguns.
Bob Maw is the president and the person of final responsibility for the quality of Republic Forge handguns. Mr. Maw personally test fires every Republic Forge handgun and does all the final quality assurance inspections before any firearm is shipped to the customer.
Republic Forge builds 1911 handguns, custom made to order. You go online and design the handgun to the specification that you desire and need. You are starting at about $3000 and can take the price up to $8000 depending on your specifications.
If you are a young business person recently out of college or a newly minted Lieutenant in our armed forces perhaps purchasing a Republic Forge 1911 is something that should wait a few years to do. If you're progressing well in the corporate or senior military world it is time to reward yourself.
My first contact with Bob Maw was actually through Bobby Tyler of Tyler Guns Works out of Friona, Texas. Bobby Tyler is quickly becoming world famous (no exaggeration) for his color case finishing work he provides the firearm industry. If you have picked up a Henry lever action rifle that is color case finished, Bobby Tyler performed his magic on that rifle action prior to its final assembly.
I have a Henry 30-30 lever action rifle and matching tomahawk that Bobby Tyler produced and both are color case finished at Tyler Gun Works. Bobby can take a darn fine looking firearm, make it gorgeous (not a manly term I know) and make you want more of his work in your gun collection.
Bobby Tyler and Tyler Gun Works will be doing almost all the finishing work, to include custom engraving on the New Mexican, Republic Forge LLC custom made 1911 handguns. At this point, approximately 60% of the 1911 handguns will either have some color case finish or the complete firearm will be color case finished. No two color case finished firearms will have the same final outcome. Therefore all color case finished firearms are uniquely and distinctively different.
You can order two Republic Forge 1911 handguns with consecutive serial numbers but they will never be twins.
Everything used to build the Republic Forge 1911 handguns, is made in America with one exception, the Damasteel metal imported from Sweden that is used to make the stainless steel Damascus slides. Damascus steel has been around for thousands of years but can be too brittle for building high pressure firearms.
Damasteel has changed that paradigm and their exceptionally strong stainless steel allows for the building of Republic Forge 1911 handguns that can take the pressure and still have the exterior appeal of Damascus steel. However, it goes further than that.
After the etching is done on the Damasteel 1911 slide to bring out the metal's interior beauty, Bobby Tyler at Tyler Gun Works has broken the code on color case finishing the Damasteel slide. Mr. Tyler takes a unique in appearance piece of steel in the form of a Republic Forge 1911 slide, and by color case finishing it, has made that firearm exceptional.
No two pieces of Damasteel are the same and no two Tyler Gun Works, color case finished firearms are the same. When you combined these two processes you have a 1911 handgun that is extraordinarily strong, functional, one-of-a-kind in looks and finish, and just plain beautiful.
Your Republic Forge 1911 will provide you less than one-inch groups out of the box. You can order your handgun in, 45acp, 9mm, 40 S&W, 10mm, 38 Super, and 38 wadcutter. 9mm seems to be the favorite cartridge at the moment to have a Republic Forge 1911 built around. There is a newfound emphasis on 10mm and there is new and improved 10mm ammo on the market.
A caliber choice suggestion might be 10mm, given the strength of the Republic Forge 1911. This handgun can handle the 10mm, providing magnum capabilities in an exceptionally strong semi-auto handgun.
As stated in the beginning, a Republic Forge 1911 handgun is not a production class firearm. You have to order it and you have to wait while it is being built. You are looking at 4-6 weeks to have your custom make 1911 built. If you want it hand engraved you will need to allow 8-10 weeks.
If you want to reward someone or reward yourself with a Republic Forge 1911 handgun you have to be proactive in your timeline. I believe your only disappointment with their handgun would be the wait to get it built for you if you are in a hurry.
Once the shooting public sees the Damasteel, Tyler Gun Works, color case finished, Republic Forge 1911 handguns, and understands the quality and craftsmanship that goes into the building of that firearm, I have a feeling there will be an increased wait time to acquire one of these unparalleled handguns that is also an exquisite piece of artwork.
Quality, strength, and beauty are the force multipliers of a Republic Forge 1911 handgun.
---
About Major Van Harl USAF Ret.:
Major Van E. Harl USAF Ret., a career Police Officer in the U.S. Air Force was born in Burlington, Iowa, USA, in 1955. He was the Deputy Chief of police at two Air Force Bases and the Commander of Law Enforcement Operations at another. He is a graduate of the U.S. Army Infantry School.  A retired Colorado Ranger and currently is an Auxiliary Police Officer with the Cudahy PD in Milwaukee County, WI.  His efforts now are directed at church campus safely and security training.  He believes "evil hates organization."  [email protected]