AUSTIN, TEXAS – -(Ammoland.com)- Students for Concealed Carry (SCC) recently announced that Michael Newbern, the organization's assistant director of public relations, is formally challenging Shannon Watts, founder of Moms Demand Action for Gun Sense in America, to a WWE-style cage match to determine the future of campus carry in America.
Newbern explained, "We've given this a lot of thought, and we've concluded that the best way to decide this very nuanced policy question is to have a competitive powerlifter compete against a mother of five in a no-holds-barred contest of hand-to-hand combat."
SCC was inspired to adopt this unconventional approach after seeing that gun-rights activist Kaitlin Bennett, who became a highly-publicized viral sensation after tweeting graduation photos of herself walking across the Kent State University campus with an AR-10 rifle, has challenged gun-control activist David Hogg, who rose to fame after surviving the Parkland High School shooting, to an arm wrestling contest to decide the future of the Second Amendment.
I have a challenge for you @davidhogg111. Let's arm wrestle. If I win, we get to keep the 2nd amendment. If you win, we turn in our guns. Deal?

— Kaitlin Bennett (@KaitMarieox) June 3, 2018
"We saw Kaitlin Bennett's tweet challenging David Hog to an arm wrestling match," said Newbern, "and it was like a light bulb went on. We asked ourselves, 'Why are we wasting so much time and energy participating in policy debates when we can settle this with a display of brute strength and athleticism?"
SCC's challenge to Shannon Watts is obviously satire, but it raises legitimate questions about the direction of the debate over guns in America.
What does it say about political discourse in this country when so much attention is paid to activists like Kaitlin Bennett, whose advocacy eschews factual arguments in favor of efforts to "own the libs"? There are legitimate reasons to criticize David Hogg, who favors insults over policy discussions; however, his unnecessarily caustic rhetoric neither merits Ms. Bennett's personal attacks nor reaches her level of childishness.
During SCC's first decade of political activism, the organization successfully used policy debates, op-eds, and information campaigns to help effect a tenfold increase in the number of U.S. college campuses that allow the licensed concealed carry of handguns in classrooms. Unfortunately, this brand of fact-based activism is quickly falling out of fashion. The new brand of activism is all about inflaming rather than informing. Groups like #CocksNotGlocks and Turning Point USA are teaching the next generation of activists that successful political engagement is all about going viral.
Newbern commented, "Real activism seeks to win over fence sitters and rebut opponents, not simply spit in the eye of the opposition. Real activists effect change by focusing on political discourse, not publicity stunts. Kaitlin Bennett isn't an activist; she's a narcissist. She's not trying to influence public policy; she's auditioning for cable news."
---
POSTSCRIPT: As Students for Concealed Carry was doing the final edits on this lighthearted press release, when public discourse involving David Hogg took a dark and nearly tragic turn. On the morning of Tuesday, June 5, 2018, SWAT teams responded to Hogg's Parkland, Fla., home after someone called the police to report that a hostage situation was underway at the residence. The call turned out to be a hoax, a dangerous and highly illegal prank known as "swatting."
Although this incident did not result in any injuries, one past swatting incident resulted in serious injury to a responding police officer, and another led to the death of the targeted victim. Such hoaxes are a federal crime that carries a maximum penalty of life in prison.
Mike Newbern commented, "This wasteful and dangerous use of police resources is completely unacceptable. Although we can't be certain that Hogg was targeted for his gun-control activism, we can say without hesitation that the gun-rights community has done an inadequate job of self-policing its activists and calling out bad actors. Both sides of this debate have a responsibility to tone down the heated rhetoric and personal attacks and refocus their efforts on productive civic engagement."
---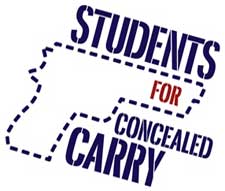 ABOUT STUDENTS FOR CONCEALED CARRY
Students for Concealed Carry (SCC) is a national, non-partisan, grassroots organization comprising college students, faculty, staff, and concerned citizens who believe that holders of state-issued concealed handgun licenses should be allowed the same measure of personal protection on college campuses that current laws afford them virtually everywhere else. SCC is not affiliated with the NRA or any other organization. For more information on SCC, visit ConcealedCampus.org or Facebook.com/ConcealedCampus. For more information on the debate over campus carry in Texas, visit WhyCampusCarry.com or tweet @CampusCarry.