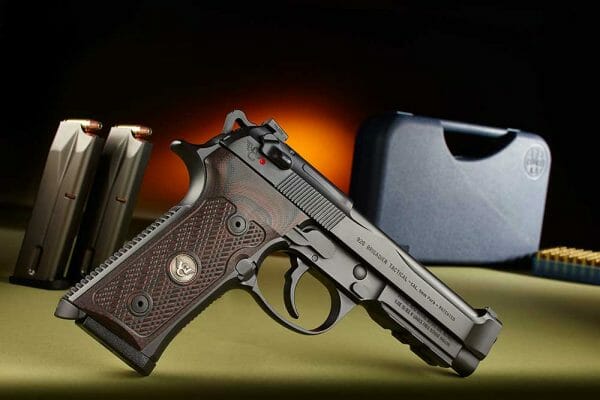 Berryville, Arkansas –-(Ammoland.com)- We are now offering the Wilson Combat/Beretta Brigadier Tactical 92 with a Vertec-grip frame conversion. This conversion, performed by Wilson Combat reduces the size of the frame to the significantly smaller Beretta Vertec size which is ideal for shooters with smaller hands or who prefer the straighter, more 1911 style grip.
Our skilled gunsmiths reduce the grip frame to Vertec size, checker the backstrap to match the front and complete the process with a frame refinish in matte Black Armor-Tuff. This pistol comes standard with indestructible Black Cherry G-10 grips.
Some features of the limited production Wilson Combat/Beretta 92G Vertec/Brigadier Tactical include steel ambidextrous decocker-only levers (G model), enhanced Brigadier slide, a modified M9A1 style checkered frame with accessory rail and rounded trigger guard. This model also features enhanced accuracy with an "Elite" style match grade stainless barrel with recessed target crown, the action features a 13lb Chrome Silicone hammer spring for lighter trigger pulls, and Trijicon dovetail tritium front sight and Wilson Combat rear sight. Wilson Combat G-10 grips, Wilson Combat steel guide rod and numerous other features to enhance performance. The 92G Vertec/Brigadier Tactical slide is finished in Beretta black Bruniton with Armor-Tuff frame and marked with the Wilson Combat logo and specially serialized to ensure its place in Beretta history.
Although the 92G Vertec/Brigadier Tactical has been optimized by Beretta to meet the needs of high round count tactical and competitive shooters, further customization and finish work is available through Wilson Combat.
"Being a serious Beretta collector, I have always considered the 92G SD the best model ever produced, but almost too expensive and rare to shoot. I feel fortunate to have been able to work with the fine people at Beretta USA to produce a pistol that, in my opinion, is an improved 92G SD. Having Beretta USA build my dream 92 series pistol is awesome and I'm very happy that a lot of people will be able to enjoy this fine pistol model." -Bill Wilson
This model is exclusive to Wilson Combat and available direct from Wilson Combat or from Wilson Combat dealers only. Not available for purchase to MA residents.
Specifications
Available Calibers: 9mm
Magazine Capacity: 15 Rounds
Barrel Length: 4.7″
Overall Length: 8.3″
Slight Radius: 6.5″
Height: 5.5″
Width: 1.5″
Weight Empty: 32 oz.
Weight Loaded: 39 oz.
Features
M9A1/Vertec Frame With 92A1 Round Trigger Guard Profile and Improved Checkering
Dehorned 92G Brigadier Slide
Slide To Frame Fit As Tight As Practical Within Production Gun Limits
Trijicon Tritium Dovetail Front Sight
Stainless Barrel With Recessed Crown, 4.7" Elite II Length, Black Finish
Oversize Steel Magazine Release
Steel De-Cocking Levers
Skeletonized Elite II Hammer
Chrome Silicone Action Tune
13lb. Hammer Spring
Wilson Combat Mag Guide
Steel Trigger
Wilson Combat Rear U-Notch Battlesight
Wilson Combat Fluted Steel Guide Rod
G10 Vertec Black Cherry Grips With Wilson Combat Logo Medallion
Wilson Combat Logo On Slide
Three 15rd M9A1 Beretta Sand Resistant Magazines
More Info
G Configuration Ambidextrous Decocker Only
All Steel Components (decocker, trigger, magazine release, guide rod)
Checkered Frontstrap And Vertec Backstrap
Beveled Magazine Well
Rail For Mounting Light Or Laser
Special Serial Number Range With WC Prefix
IDPA ESP Legal
USPSA "NOT PRODUCTION LEGAL"
Not CA Compliant (Unless LEO Purchase)
**The Vertec is only available as a complete firearm at this time. The Vertec conversion cannot be done to customer supplied firearms. No additional upgrades can be done to the Vertec before shipment.
*Photos may include features and/or upgrades not included in the base price.
---
About Wilson Combat

Since 1977 Wilson Combat has been the leading innovator in high-performance, custom 1911 handguns, tactical long guns, and accessories. A Wilson Combat®product's unmatched level of exceptional reliability and peerless craftsmanship is only equaled by our legendary customer service. Learn more about us at https://www.wilsoncombat.com