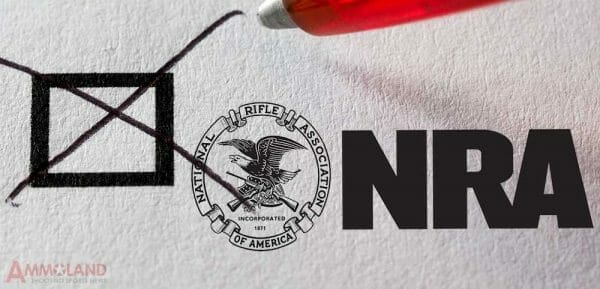 USA –  -(AmmoLand.com)- By now voting eligible NRA members should have received their election ballots for the 2019 National Rifle Association Board of Directors election in your monthly magazines. NRA members must complete and return their ballots by on or before April 7th, 2019. Any votes returned after that date will not be opened or counted.
AmmoLand News has brought our readers continuing coverage of the NRA leadership and Board candidates running for 2019. Please take the time to read over the articles included in your recent AmmoLand News NRA Election email blast or at the following link, so you can cast your vote for that best woman or man to represent you on the NRA-BoD.
This year's ballot has 35 candidates, including five (5) women, and two (2) candidates nominated by petition only. The Nomination Committee received a total of 176 recommendations for 59 individuals. Fifty-six individuals were Life Members and therefore eligible for consideration. The committee reviewed all eligible candidates – incumbents seeking reelection, and candidates who either submitted themselves for consideration or were recommended by other NRA members.
Candidates hail from twenty-one (21) states including Alaska. With our fall-back-state of Texas sending forth the most candidates, five (5), followed by Virginia with three (3). Notably missing are candidates from eastern states (New York is as far East as candidates draw from) and the West coast, locations where membership needs the most representation in the fight for our rights.
While the ballot has names you can easily recognize, like our "uncle" Ted Nugent (not to be confused with Johnny Nugent, who is also running), Karl Malone and Oliver North the ballot also has many names that you may not recognize but are real workhorses on the board of directors and need your support and votes more than the brand names.  We have highlighted many of them in our recent interview articles of NRA Board members.
Two candidates are only on the ballot by member petition and not through the traditional board of director Nomination Committee. Anthony Colandro and Adam Kraut.  Please consider them for your votes.
Bullet Voting
A word about bullet voting: if you want to maximize the vote for your favorite NRA-BoD candidate, please consider limiting your check marks on your ballot to the fewest number of selections as that makes your vote much more effective than if you checked all the boxes up to your maximum vote limit of 27.  Read more on the advantages and disadvantages of NRA Bullet Voting here.
Finally, if you have not received a ballot in your February NRA magazine, that is a reliable indicator that you are not an eligible voter and need to take steps to change that by upgrading your NRA membership type so you can have a say in who leads your National Rifle Association.  Join or change your membership here.
~ AmmoLand News, Editor in Chief, Fredy Riehl