U.S.A. – -(Ammoland.com)-"Feds charge Ald. Edward Burke, allege wiretap on cellphone captures him in attempted extortion," the Chicago Tribune reported Thursday. "Burke, one of Chicago's most powerful figures and a vestige of the city's old Democratic machine, has often been considered too clever and sophisticated to be caught blatantly using his public office to enrich himself. But after years of dodging investigations while watching dozens of his colleagues hauled off to prison, Burke has been accused of crossing the line himself — and doing so in a quintessential Chicago way."
And in a story that just broke, we find the politician he is accused of doing some of that extorting on behalf of, Cook County Board President Toni Preckwinkle, made sure Burke's son got a plum $100K public trough job.
Take a number when it comes to names in the long line of Chicago's notorious and perennial corruptocracy. The Trib has posted a companion "Hall of Shame" article featuring a "Who's Who" of criminal aldermen. These guys from the city that inflicted Barack Obama on the rest of us are as bad as Bloomberg's Criminal Mayors.
Speaking of Obama, how did Michelle "work her way up" to $300K again?
Naturally, Burke is a Democrat. And naturally he's anti-gun:
Burke and Mayor Rahm Emanuel announced that they had introduced the ordinance in a joint press release March 29. It would require that financial institutions file an affidavit along with their economic disclosure forms verifying that their retail business clients adhere to certain policies. Those policies include banning the sale of "bump stock" attachments that allow semiautomatic rifles to fire faster, barring the sale of high capacity magazines, and banning the sale of firearms to persons under 21 or to those who have not passed a background check.
Or rather, I should say anti-you having guns. Per the linked story in the lede, he likes his just fine:
Prosecutors revealed during the 10-minute hearing that the FBI found 23 guns in the raids on Burke's City Hall and ward offices in November. As a condition of his bond, Burke, a former Chicago police officer, was ordered to surrender the firearms and any others he may own within 48 hours of his release.
Just out of curiosity, does anyone know how he got them into "local government buildings"? Are there special exemptions or just special passes? Like the kind exploited by another guns-for-me-but-not-for-thee alderman, Richard Mell, who violated a registration law he wrote, blamed his staffers, tried to get special favors from the police and then wrote a new ordinance so that he could keep his guns?
While the federal charges have yet to be proven, Burke is unquestionably guilty of gross hypocrisy when it comes to guns. That's especially outrageous considering the expensive, tax-funded 24/7 armed security detail he's surrounded himself with for decades.
The line at the end of the neo-noir classic movie "Chinatown" comes to mind, one that sums up the futility of trying to get justice from a system that is irredeemably criminal. I've adapted it for my blog, The War on Guns, and use it regularly when I come across stories about senseless Chicago corruption being exploited to demand we give up our guns:
Forget it Jake. It's Chi-Town.
---
About David Codrea: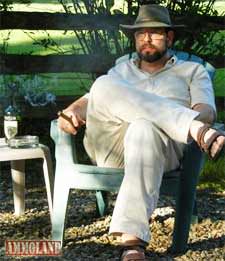 David Codrea is the winner of multiple journalist awards for investigating / defending the RKBA and a long-time gun owner rights advocate who defiantly challenges the folly of citizen disarmament.
He blogs at "The War on Guns: Notes from the Resistance," is a regular featured contributor to Firearms News, and posts on Twitter: @dcodrea and Facebook.