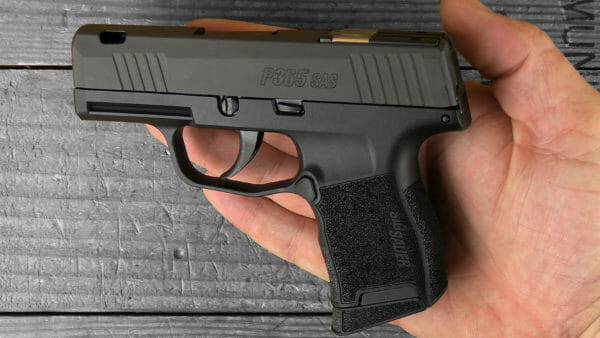 U.S.A. –-(Ammoland.com)- When the original Sig P365 came out I admit I was not excited.  I had just gotten excited about the Walther PPQ SC and it seems less than a month later Sig had produced an even smaller option.  As a larger-handed shooter, I felt somewhat relieved that the new Sig didn't fit my hand as well as the Walther, but the media raved on and on about the Sig.
For me, the P365 (and P365 SAS) borders on too small for a pistol I intend to shoot well.  I've seen it fit perfectly into mid and small-sized hands, but in my hands, it swims a little causing me to squeeze and subsequently throwing my shots a little left of center.  This is not a fault of the gun rather a mismatch between shooter and gun.  I do however value the merits of such a small pistol that can provide such capacity.  The gun is so small it could almost function as a pocket gun depending on your pocket.  That's why when the P365 SAS (Sig Anti-Snag) model came out I decided to give it a try.
The P365 SAS model has taken several steps to make the pistol as close to snag-free as is reasonable.  The most obvious of these changes is the removal of traditional two-piece sights and replacement with the FT Bullseye sight.  When I first saw this sighting system at SHOT Show a couple of years ago I wondered if it would ever be adopted.  By creating a recess in the slide Sig uses the FT Bullseye as a way to have a sighting system that sits nearly flush with the top of the slide.  Other anti-snag changes include tucking the take-down lever and slide stop/release nearly flush into the frame.  Some say this move was in excess, but if it's going to be a large pocket gun that's two fewer pieces to snag onto a loose thread or flap on the way from holster through pocket opening.  To get a better look at just how anti-snag the Sig P365 SAS is take a look at the tabletop video below.
The specifications of the Sig P365 SAS are nearly identical to the regular P365.  For those who aren't familiar, or are like me and didn't really consider the original before the specifications below were taken directly from the product web page.
CALIBER: 9mm Luger
ACTION TYPE:

Semi-Auto

GRIP TYPE: 

Blk Polymer

GRIP COLOR: 

Black

FRAME SIZE: 

Micro-Compact

FRAME MATERIAL: 

Stainless Steel

SLIDE FINISH: 

Nitron

SLIDE MATERIAL: 

Stainless Steel

BARREL MATERIAL: 

Carbon Steel

ACCESSORY RAIL" 

N/A

TRIGGER: 

Striker

TRIGGER TYPE: 

Standard

BARREL LENGTH: 

3.1 in (78 mm)

OVERALL LENGTH (IN): 

5.8 in (148 mm)

OVERALL WIDTH: 

1.0 in (27 mm)

HEIGHT:

4.1 in (104 mm)

WEIGHT (OZ): 

17.8 oz (500 g)

MSRP: $579.99
On the range we ran ten different loads through the gun.  Loads included projectiles of all different shapes, weights, and types.  Cases were aluminum, brass, steel, and nickel-plated brass.  We also tried Sig's innovative 365 ammunition.  Not just a marketing scheme, the 365 ammunition was formulated to perform properly from a 3.1″ barrel.  Anyone running a short-barreled 9mm pistol should consider these loads as most common loads were created for a 4″ or longer barrel and so might not gain the speed they need for ideal performance out of subcompact guns.  Range performance and impressions of the Sig P365 SAS from two shooters can be seen in the shooting impressions video below.
---
About Graham Baates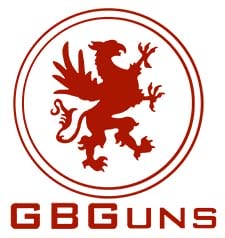 "Graham Baates" is a pen name used by a 15-year active Army veteran who spent most of his time in the tactical side of the Intelligence community including tours in Afghanistan and Iraq. Post-Army Graham spent some time in the local 3-Gun circuit before becoming a full-time NRA Certified defensive handgun instructor and now works as an industry writer while curating a YouTube channel on the side. Visit Graham on Youtube .
Some of the links on this page are affiliate links, meaning at no additional cost to you, Ammoland will earn a commission if you click through and make a purchase.