Our April sale is right around the corner. Get your bids in today!
USA – -(AmmoLand.com)- This sale features the final sale of decoys from the William J. Mackey, Jr. Family Holdings. It will also feature decoys and sporting art from the collections of Jonathan & Virginia Chua, Don Kirson, Doug & Ellen Miller, David Meyer, Dick Stephenson, Bill Staplin, and Ron Swanson.
Featuring approximately 550 lots with guaranteed condition reports.
Contact our office at 410-745-0485 to set up phone or absentee bids. We will be processing bids through April 24. We cannot guarantee bids received after the auction begins on April 25 will be executed. To place bids over the weekend or in the evening, contact Jon Deeter at 440-610-1768 or Gary Guyette at 410-924-5678.
Click here to register for online bidding with Invaluable.
To be sure not to miss any bidding, please register on Invaluable no later than 1 hour before the auction. *Please note that items won through Invaluable will not be available for pickup the day of the sale at the auction facility.
April Auction Catalog
320 full color pages – $45 | $70 Out of Country
Subscription (Three Catalogs) – $130 | $205 Out of Country
Now taking consignments for our July 2019 auction held at the Sheraton Harborside Hotel in Portsmouth, New Hampshire. To discuss decoys in this auction or to consign for future auctions, contact Gary at 410-745-0485 or Jon at 440-610-1768.
---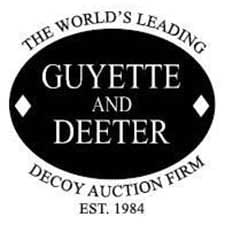 About Guyette & Deeter
Established in 1984, Guyette & Deeter, Inc. has held over 120 live auctions, realizing over $160 million in sales of decoys, paintings, and related sporting items. Our firm has handled the most important decoys and collections in North America and we have set nearly all of the world records in these categories: duck and shorebird decoys, fish decoys and plaques, duck calls and crow calls, decorative carvings, shotgun shell boxes, salesman sample canoes, and other related items. Visit : www.guyetteanddeeter.com