USA – -(AmmoLand.com)- Grassroots activists across the United States, energized and perhaps outraged by what many believe is a creeping cancer of gun control, are fighting back by creating what have come to be known as "Second Amendment Sanctuaries." AmmoLand News reached out to those involved at "Ground Zero" to learn how they did it, and how others can do the same.
One might consider Lexington and Concord—two villages in the Massachusetts Colony that would one day become a state—to have been the first Second Amendment Sanctuaries, and after more than two centuries, the idea has regained its popularity. While the Redcoats and gun smoke are gone, the activism is still very much alive. Whatever else the colonial militia was doing that April day in 1775, they were making it clear to the British government that their version of gun control was finished.
Today, in scores of counties in Illinois, Washington, New Mexico and elsewhere, gun owners are working with local officials, primarily sheriffs and county commissions, to create "safe havens" for beleaguered gun owners. Contrary to what some gun prohibition lobbying groups would have everyone believe, this is not a movement choreographed by some Second Amendment organization. The 2A Sanctuary is pure grassroots, it can be started literally by anybody, and that is what makes it dangerous to the anti-gun/anti-rights agenda.
Second Amendment Sanctuary
Such 2A "sanctuaries" may be symbolic, but symbolism can be a powerful political tool, especially with lawmen and local government officials leading the way.
David Campbell, a member of the Effingham County, IL commission, told AmmoLand in a telephone interview how the "2A Sanctuary" movement began in this part of central Illinois.
"I basically sat down and wrote a (draft sanctuary) resolution," he recalled. "I got the state's attorney to go along with it and he added some language to it."
When the resolution passed, it set in motion an effort that has now spread to 64 of the state's 102 counties. The movement had just begun.
In Washington State, following the passage last fall of an extremist gun control measure, Initiative 1639, that a majority of county sheriffs were opposed to, it took the efforts of grassroots activists including Vancouver's Steve Drury, a small businessman who knows how to work with people, to start the momentum.
---
---
Steve Drury offered four key steps to make your own Second Amendment Sanctuary:
Step One: Gather Your Allies "The first thing is to get people with 'flags on the ground,'" Drury stated. "Hold a rally in a public place, raise public awareness, hand out information in detail how 'John Q. Citizen' can proceed."
Once that momentum is established, "Show up at a county commission meeting." Such meetings typically have a period during which members of the public can make statements, and Drury wryly advises, "Bring your best three-minute speech." It should be polite and firm, explain the issue, and provide an action plan, such as a proposed resolution or ordinance.
(Activists in Washington and Illinois have shared "sample" resolutions and ordinances, which become templates for other activists to use in their proposals. See Embedded Documents below)
Step Two: Turn activism into action.
"Continue applying pressure and get more people involved," Drury advised. "We rallied every week for a month. Rally in parks or, when it rains, in a rented hall. This might cost a couple of hundred dollars, and you can raise that much by passing the hat."
Money, as the saying goes, is the "life's blood of politics." It also gives activists a sense of involvement and ownership.
Drury reached out to several county sheriffs and found one, Klickitat County Sheriff Bob Songer, who was outspoken against the gun control initiative. Songer's opposition became high profile when he appeared on the "Fox and Friends" morning program on the Fox News channel.
"Suddenly," Drury recalled, "other sheriffs began stepping up." Now, a majority of the state's county sheriffs have announced their departments will not enforce provisions of the anti-gun measure, which is being challenged in federal court by the National Rifle Association and Second Amendment Foundation.
(Note: Neither Drury or Campbell said they were encouraged or even approached by NRA or any other gun rights organization.)
Step 3: Expand public awareness; this is where approaching the media with your story becomes essential. Reporters are always looking for a hot topic, and gun rights – without Drury or Campbell having to say so – is defeinatly hot button issue. It's one thing to approach the county commission. Now it's time to contact the media.
"You create a public awareness campaign," Drury said.
Once the local media has been alerted, and they become interested in a story, "Now every time we do a rally, there is news coverage," he stated.
Step 4: Expand your scope. The strategy Drury describes appears to be taking hold in other parts of the country. Once the core group of activists has grown – one of the rallies, held in the community of Battleground, near Vancouver, attracted 400 people – and give them something to do. Assign people or groups of volunteers to travel to other counties and get activists involved to do the same thing.
Matt Marshall, a rights activist in Yelm, a community in Pierce County about 150 miles north of Vancouver, told AmmoLand, "We set up a team of local volunteers. You have one person introduce a draft ordinance via email to their county commissioner and sheriff, then set up a meeting with both. If you have support, excellent, Things tend to go smooth and fast if the commissioner takes it and runs. If they're hesitant, we then email the proposal to all of the commissioners.
"Then," Marshall continued, "we have as many people as we can, from all over, call or email or both. Have them urge the commissioners to pass the ordinance (or resolution). We then show up at the open weekly commission meetings and have as many people as possible give public comment."
One cannot discuss Washington without noting how Police Chief Loren Culp in the small town of Republic, the county seat for Ferry County, took a stand before the city council late last year, announcing that he would not enforce I-1639 within city limits. When law enforcement leaders like Culp and Songer step forward, it creates a strong message.
By following these strategies, what begins as a rally becomes a movement, and movements are difficult to ignore.
In Illinois, the "2A Sanctuary" effort appears to have started as a protest against that state's Firearm Owner Identification (FOID) card requirement. In Washington, it's about a gun control initiative largely bankrolled by a handful of wealthy Seattle-area elitists.
Down in New Mexico, the movement got started with opposition to new gun laws by the sheriffs, themselves. In a situation like that, activists in counties represented by those lawmen and women can organize public support to make sure the sheriffs get re-elected.
Local activism can take several forms, from operating a voter registration booth at a weekend gun show to raising funds for legal actions, as the Washington Arms Collectors has been doing for the past two months to support the SAF/NRA lawsuit against I-1639.
When county governments and local sheriffs and police chiefs declare they cannot or will not enforce onerous gun control laws, it's another way of saying that anti-gunners have gone too far. It raises questions for reporters to pursue. It signals that there is another side to the Second Amendment, that it is part of the Constitution and it protects a right, not a privilege.
Ironically, it begins by exercising the First Amendment rights of free speech and association. As demonstrated in Illinois, Washington and elsewhere, it is working.
Let's make it happen!
Editors Note: If you are opening up a new front in the Second Amendment Sanctuary movement and need media coverage and help getting your message out, please email us [email protected] and let us know.
---
Second Amendment Sanctuary Resolution Samples:
Gun Owners of America Second Amendment Sanctuary Ordinance Template[1]
This ordinance is the most popular draft as it "has teeth" and provides for penalties for anyone in violation.
Second Amendment Sanctuary Example #2 : Effingham County Firearms Rights Resolution
Second Amendment Sanctuary Example #3: Effingham County FOID Resolution
Second Amendment Sanctuary Example #4 Carroll County, Maryland
Second Amendment Sanctuary Example #5 : Weld County, Colorado
---
About Dave Workman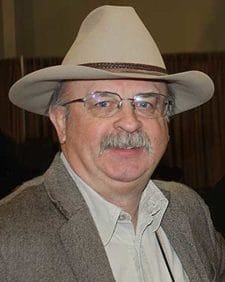 Dave Workman is a senior editor at TheGunMag.com and Liberty Park Press, author of multiple books on the Right to Keep & Bear Arms and formerly an NRA-certified firearms instructor.