U.S.A. –-(Ammoland.com)- We're back for another look at popular red dot optics.  We're taking a look at the more budget-minded red dots this time, whereas the last pertinent article was the Top 5 Red Dots (at any price).  Red dot sights (hereafter, RDS) are excellent options for those wanting a lightweight upgrade to iron sights and those prioritizing speed over the maximum accurate range.
I requested test and evaluation samples from a majority of the manufacturers offering quality red dots around the $200 limit.  Not all took up the offer, so if you don't see your favorite brand represented it's not for lack of trying!
The RDS' are judged on weight, number of brightness settings, ingress resistance, range report, and battery life.  Why ingress resistance?  The IPXX rating system is a great measure of durability and an optics capability to survive environmental abuse.  Usually, this is listed just for water protection, shown as IPX7 or IPX8.  Another number listed instead of the "X" gives more information about solid particulate debris intrusion.  Here's a great primer.
Let's get a brief intro to each red dot sight, then discuss what the final hierarchy of domination looks like and why.  In no particular order, here they are.
Red Dot Contenders
Vortex Optics is headquartered in Barneveld, Wisconsin.  The Crossfire is the successor to the popular Sparc II RDS.  I've had this particular model for quite a while, having used it in an Ultralight AR build series on my former website of employ.
First unveiled at 2018's SHOT Show, the Nikon P-Tactical Superdot has been available on the market for around a year now.  Launching simultaneously with the Nikon Spur, these two RDS' marked Nikon's move to expand into the red dot market from the rifle scope market where they have long held presence.
Pearland, Texas based Primary Arms has been known as a one-stop online shopping center for guns and accessories since it's founding in 2007.  Primary Arms (PA) has also been working up a large number of optics using the Dimitri Mikroulis designed ACSS (Advanced Combined Sighting System) reticle family.  This includes using the ACSS in collaboration with PA's competitors, to include Trijicon and Holosun.
The Bushnell TRS-25 is a legend in the industry, providing good quality and durability at a ridiculously low price.  I bought one a number of years ago, and it was a good deal at $125.  Today the -25 can be found new for as low as $56.  The TRS-26 brings a number of improvements over its predecessor, including built-in riser mount and drastically increased battery life, while keeping a low price.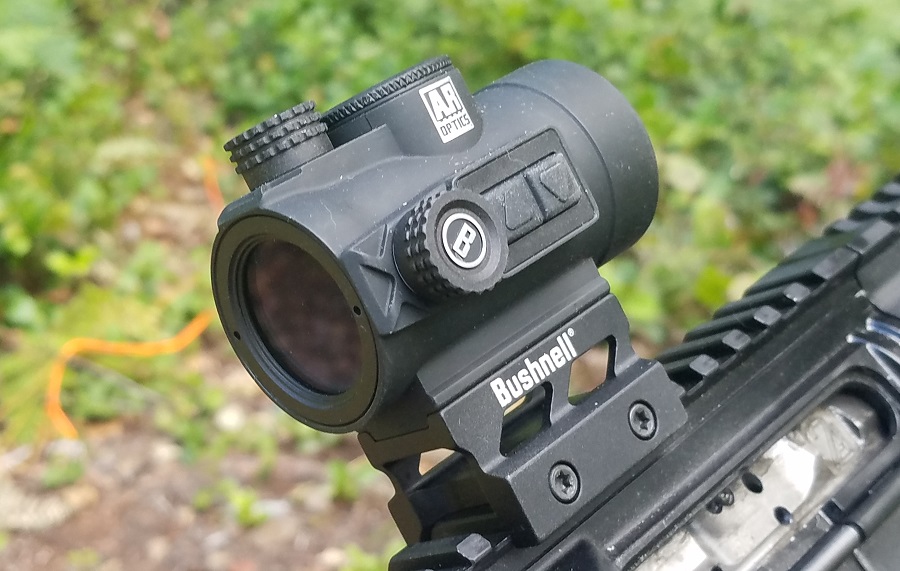 Let's get it on!
Let's get down to the scoring.  Each optic is rated 1 through 4, with one being the best.  Placement from each category is added cumulatively, with points representing negative placing.
First off, let's cover some similarities.  All RDS' have 2 MOA dots, except Bushnell with its 3 MOA dot.  All RDS' take a Cr2032 battery.  All are listed as fog-proof/shockproof and waterproof (more on that later).
Weight:
Vortex Crossfire 5.29 ounces
Primary Arms Microdot 5.32 ounces
Bushnell TRS-26 5.61 ounces
Nikon P-Tactical Superdot 6.59 ounces
A riser was added to the Nikon and PA to get them to the same sight height as the Bushnell and Vortex, at 1.16 oz.  Not a lot of weight difference from top to bottom, only ~1.3 ounces.  The Nikon Superdot is deceptive, as the external dimensions are similar to the PA Microdot.  Both the PA Microdot and the Nikon came with shorter mounts installed than the Vortex and Bushnell, though the PA came with risers.
Brightness Settings:
1: Tie- Primary Arms Microdot and Bushnell TRS-26, 12 settings
3: Vortex Crossfire, 11 settings
4: Nikon P-Tactical Superdot, 10 settings
This is one that means more to some than it does to others.  Those shooting in desert (or arctic) conditions are likely more interested in maximum brightness to combat washout, while those in temperate areas find more need to fine-tune the brightness settings to match exterior conditions.
Ingress Resistance:
Nikon P-Tactical Superdot, IP67
Primary Arms Microdot, IPX7
Tie- Vortex Crossfire and Bushnell TRS-26, only described as "waterproof".
This one deserves unpacking.  While Nikon and PA both have a "7" for water resistance (underwater at 1 meter depth for 30 minutes), Nikon includes the particulate protection rating.  More information available to the consumer is always better.  The PA Microdot might have a "6" for particulate, but we wouldn't know.  For that matter Vortex and Bushnell's RDS' are both listed as "waterproof", and may even have an IPX7 rating.  Again, we wouldn't know, as they're sticking with "waterproof" as a marketing phrase without telling us to what standard.  If it won't turn on at the bottom of the Mariana Trench, it's not proofed against water, merely resistant, which the IPXX rating system defines for us.  Throw us a bone and include this in the tech specs, so we can weigh these choices.
Battery Life:
1:  Tie- Bushnell TRS-26 and Primary Arms Microdot, 50,000 hours
3:  Nikon P-Tactical Superdot, 14,000 hours at "low" setting
4:  Vortex Crossfire, "Up to 7,000 hours".
This one is a beatdown, with Bushnell and Primary Arms trouncing the competition with Aimpoint-like longevity.
Range Time:
I've had these RDS' for months now, which is a lot of range time in the life of this guns/gear reviewer and recreational shooter.  I've been swapping all four of these optics between an Mp5K clone in 9mm, an ultralight (sub 4lb) AR in .223, a Noveske Ghetto Blaster (Gen4 N4 PDW) in .300 blackout and a Radian Weapons Model 1 with a .223 Wylde chamber, a Tristar bullpup 12 ga shotgun, and a QC10 pistol caliber carbine in 9mm.  I tried to keep the round count on each approximately equal.  This wasn't designed to be a durability test, more of a familiarity builder to let you know what my (totally subjective) experience with each was.  First the score, then the breakdown.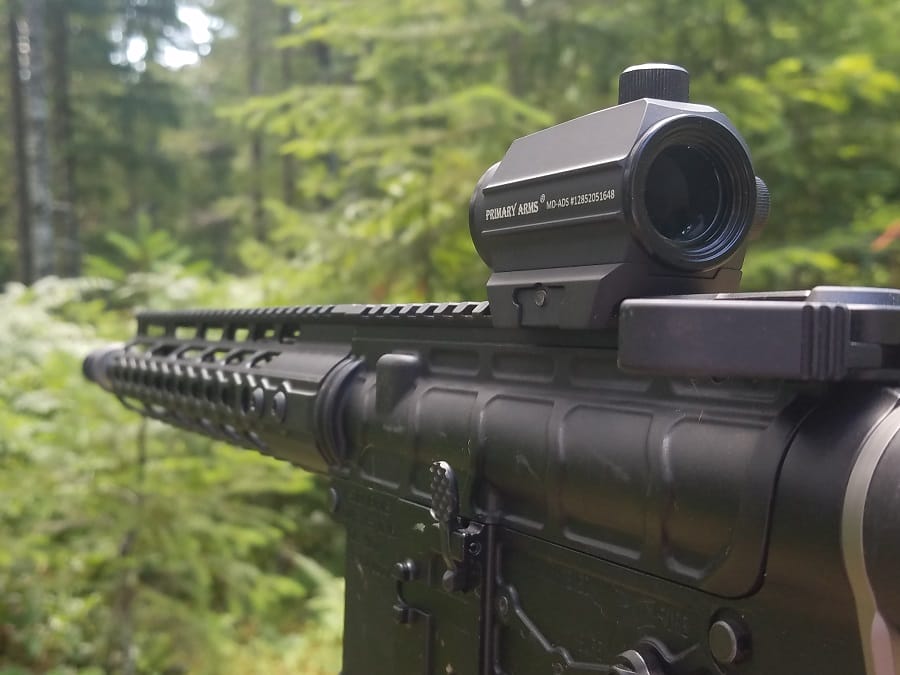 1:  Tie: Primary Arms Microdot and Bushnell TRS-26
3:  Nikon P-Tactical Superdot
4:  Vortex Crossfire
For those of you who use "doesn't lose zero after 100 rounds" as a metric… no.  Staying on and staying where you left it are not successes, but rather metrics of whether something is functional, or a paperweight.  Unless a failure is mentioned, all optics stayed on when they should and didn't lose zero.  "Chekhov's gun" rule in effect.
PA hits top marks, with 2 positives and no major faults.  The buttons on the Microdot are the most responsive and tactile, easily felt even through gloves and placed ergonomically.  Holding both buttons (nigh impossible to do accidentally) turns the optic off right away, with no awkward 3-second waiting period.  The optic is clear, light and effective.  Well done!
Bushnell's TRS-26 also runs into the top category.  The TRS-26 has an awesome, big window.  I can't overstate how nice it is to look through after staring down the much narrower-windowed competitors.  This is like watching the tide come in through a massive bay window, versus looking down a paper towel roll.  Bushnell's turret caps are knurled, making them the least-dropped of the bunch.  Clear glass, sharp dot, I like it.  I don't like the 3-second hold to turn the dot off, but that's really a shooter preference item.
I would like to see both PA and Bushnell include one feature found on both the Vortex Crossfire and the Nikon P-Tactical Superdot, tabbed adjustment caps.  By that, I mean the small flathead-screwdriver like protrusion on top of the adjustment cap used to actually adjust the elevation and windage.  Yes, you can use the end of whatever brass casing you have handy.  Sometimes that means dropping the mag to strip a spare round, sometimes that means breaking your shooting position to crawl over and get one.  Built-in solutions beat field expedient solutions.
Now we're down to what feels like an ill-deserved 3rd place, the Nikon Superdot.  I say ill-deserved because the P-tactical Superdot is a really good optic.  It just isn't that bright, even on the brightest setting.  It's not terribly dim, it's just enough that it can't compete with the Bushnell and PA on a bright day.  It is ergonomic, has excellent tactile buttons like the PA Microdot, and even the tabbed adjustment caps.  It is light, the glass is clear and it's on sale right now for $99.  There's a lot to like there.
Finally, the Vortex Crossfire.  Almost.  That's how I feel about the Crossfire.  I like Vortex's products.  I have a few and they all work great.  With just a little more time in the design oven, I think the Crossfire could be a legend.  First, the good.  Skeletonized mount, lots of brightness settings (top setting is very bright), tabbed adjustment caps, but there are a couple of negatives here too.  First, the glass is a little dimmer than the others here.  Colors, not so bright.  The picture is a little grayer and darker.  Second, the brightness selection knob is an issue.  It neither spins fast enough to get from zero-to-bright in a hurry, nor has an "off" position in between each brightness setting to keep it close (while you can finagle this to position 5.5, 6.5 etc, it isn't intentional, doesn't have a detent, and can't be counted on not to snap back into the on position).  It also doesn't have the battery life to simply leave on.  I'd also prefer the knob to spin to 11 in both directions, meaning from 10 or from 0.  I'd like to go from "off" to "full go" without spinning the stiff knob through 1-10 first.  The third and final sin is of the mortal variety, the Crossfire blinks on and off.  Fresh battery, clean connections… it shuts off under recoil or sometimes just when changing brightness.  Usually if I smack it, it will come back on.  Usually.  I know every manufacturer has the occasional lemon go out the door (even the almighty Aimpoint and Trijicon), but I can only review what I'm sent.  Also, a quick Google search shows that I'm far from the only one to have this problem.  Almost, Vortex.  This scored 4th even before it lost function, so I'm adding another point.
Scoring:
Primary Arms Microdot, 7 points.
Bushnell TRS-26, 9 points.
Nikon P-Tactical Superdot, 15 points.
Vortex Crossfire, 16 points.
It's easy to see why Primary Arms and Bushnell took the top two spots.  They are both excellent optics, certainly capable of competing well against any others.  It's a bit surprising to see Nikon barely beat the Vortex, which shows a crack in my grading metric more than in the strength of the optic itself.  As it is, I prefer it a great deal more than the Crossfire (were it functional), more than one might guess by looking at the 1-point difference.
There you have it.  I have no doubt there will be some disagreement as to how these placed, or to which others should have been included.  Let me know your thoughts in the comments below!
---
About Rex Nanorum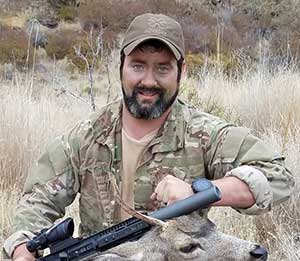 Rex Nanorum is an Alaskan Expatriate living in Oregon with his wife and kids. Growing up on commercial fishing vessels, he found his next adventure with the 2nd Bn, 75th Ranger Regt. After 5 tours to Afghanistan and Iraq, he adventured about the west coast becoming a commercial fisheries and salvage SCUBA diver, rated helicopter pilot instructor (CFII) and personal trainer, before becoming a gear reviewer and writer."