Opinion
Colorado – -(AmmoLand.com)- Last week, we publicized the story of a 16 year old Loveland High student who was banned from school after posting a video on Snapchat of him shooting with his mom. The school banned him even after police investigated the "threat report" and instantly cleared him. After the story broke, community members, and even elected officials contacted school admin and district board members to express their disapproval of this blatant violation of the student's civil liberties, as well as the complete disregard for parental rights. And it undoubtedly had an effect.
The threat assessment hearing took place and the student has been cleared to return to class.
The school officials came prepared with a packet of his homework, and stated they believed him to be a good kid and never thought he was making threats against the school. They acknowledged that his classmates may now react differently to him (I mean, he's practically been accused of being the next school shooter, right?) and offered to make sure no one gave him trouble.
The SRO who was present agreed that the Safe 2 Tell system is sometimes used inappropriately by students wishing to anonymously seek revenge on another student. School officials also cautioned Nate to not post these types of activities on social media. The mother quickly reminded them that this is his First Amendment they're talking about, and although she gets their point, that is a dangerous slope they're heading down.
On January 1, 2020 Colorado's "Red Flag" Emergency Risk Protection Orders ERPO law will go into effect. I've long said ERPO's will be Safe2Tell for adults, and students have dubbed Safe 2 Tell as "Safe 2 Swat", referencing the act of "swatting", a criminal harassment tactic of deceiving an emergency service into sending a police and emergency service response team to another person's address. Had this same scenario taken place while the ERPO law is in effect, the mother likely would have lost her firearms.
We need to continue to rally together as a community and push back at every turn. If you or your child ends up in a situation like Nate's, please don't hesitate to reach out to us here at Rally for our Rights.
---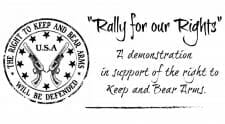 About Rally for our Rights
Rally for our Rights is a non-partisan gun rights advocacy organization that was founded in early 2018. It has quickly become Colorado's most active Second Amendment group with a focus on frontline activism and community outreach.