Van Harl reviews the Henry Single Shot Rifle In 30-30 WIN.
USA – -(AmmoLand.com)- Back in 2016, when I heard about the future Henry model H015 single-shot rifle and/or shotgun, my first questions were, was there going to be inter-changeability of barrels? Will the Henry owner be able to convert their H015 shotgun to a rifle with a quick change of barrels? The answer in 2016 and again in 2019 it is still no.
I must admit I did not understand this concept. I have owned break-open single-shot shotguns made by at least five other Brand-X shotgun manufacturers. They all came apart very easily and allowed for a rapid break down and barrel change if you had a second barrel.
If there was no barrel changing capability, then I could still break down the single-shot rifle into two separate smaller pieces, place it in a shortened case and use it as a survival rifle. Such as, behind the seat of an airplane in Alaska or my old pick up truck.
When I pulled my new H015 30-30, chambered in 30-30, Henry single-shot rifle out of the box I knew it was never going to be a "truck" gun.
Henry Single Shot Rifle In 30-30
The wood on the H015 is gorgeous and is not going in the back of a bush plane to get scratched and allowed to rust as rifles do when neglected. Now when you pick up the H015 30-30, it just oozes solid and substantial.
This is not an entry-level firearm. That gorgeous wood I mentioned was installed with excellent wood to metal finish.
Take a look at almost any other break-open, single-shot shotgun or rifle, and you will find a half to three-quarters open face concaved metal cut out on the barrel lug. This slides into the pivot or hinge pin and with the forearm in place, that locks up the firearm allegedly in a tight, secure mode ready to give great accuracy, maybe.
The H015 series of rifles and shotgun has a through-hole bored into the locking lug, not just a cutaway quarter moon-shaped lug. After the barrel is placed into the receiver the hinge pin is driven into the hinge pinhole on one side of the receiver, through the barrel lug through-hole and on, to the other side of the receiver. Now you truly have an enhanced, tight lock-up of the action.
It is the combination of close tolerances built into the Henry firearm during manufacturing, hand fitting of the rifle/shotgun and enhanced tightness do to the through-hole design in the barrel lug that produces accuracy. This, along with the driving in of the pivot pin that gives these Henry rifles a one inch MOA at 100 yards right out of the box. Watch the Henry video series on the H015 to get a real feel for the tightness of the action.
Now, I have to admit I really wanted the H015 30-30 to become my new take-down, easy to store (good looking of course) travel rifle. But I will get over that small set back.
Why 30-30 Win?
When I walked into a store this fall and was able to buy American manufactured 30-30 ammo for just under $10 a box ,I knew it was time to get serious about a H015 chambered in that cartridge. This current pricing of 30-30 ammo took me back the era of President Bush "the younger" days.
I also must admit I have developed a great fondness for the 126 plus-year-old cartridge over the past couple of years. Some of the current loads of 30-30 have taken an old 100 yard, whitetail round and morphed it into a 200-yard elk cartridge.
When using a single-shot rifle, you are not going to get that quick second shot off. So, that first shot really must count. What has become my favorite 30-30 ammo is the Buffalo Bore, 30-30, 28A, using a 190 gr JFN bullet moving out at 2100 FPS and generating 1860 pounds of ME.
To paraphrase Tim Sundles the owner of Buffalo Bore Ammunition, the 28A 30-30 ammo is not a whitetail cartridge, it is for larger game in North America, to include Grizzly if you might need it as a defense round. As Mr. Sundles jokingly put it, you can kill one deer, but so as to not waste ammo, he suggests you line up three to four of them and then expend one shot. Perhaps filling everyone's deer tag in your hunting party. Again, I paraphrase.
Oral and written history keeps reminding us that the 30-30 cartridge has taken more deer in this country than in any other round. This combination of an evolving and ever more flexible 21st century 30-30 round of ammunition has brought me to the desire to acquire a Henry Single shot rifle chambered in that pre-modern magical cartridge.
A couple of weeks back the Henry Repeating Arms manufacturing plant in Rice Lake, Wisconsin beat out over 150 other Wisconsin manufacturers to win the prestigious title of the producer of the "Coolest Thing Made in Wisconsin for 2019." They were talking specifically about the All-Weather Big Boy lever-action rifle chambered in 44 mag. However, the truth is everything Henry Wisconsin manufactures in God's country meets the same quality standards.
This built-in quality that Henry Wisconsin has for all it firearms and the continued enhancement of the 30-30 cartridge cemented my desire to get my hands on a H015 30-30 single-shot rifle and I have been most pleased.
The other issue is the purely practical need for a single shot rifle in a Zombie apocalypse. It does not matter how well you prepare, train and acquire needed supplies, your unprepared friends and relatives will show up on your doorstep demanding help.
After you let them in, give them some food, drink and rest you expect them to go to work for the greater cause of your survival community. One of the assigned tasks for all adults will have to be guard duty, to include the midnight shift. "But I know nothing about guns," says the cousin who collects toy cars and plays video games for his résumé of survival skills. Not to worry you can train anyone in a few minutes how to safely load and shoot a single shot rifle or shotgun.
You can provide them with a newfound understanding of the positive feeling of dependability, strength and yes, power that a well made Henry single-shot rifle will provide to a less than learned fusilier. A quickly obtained confidence that they too can help bring to the fight with "walkers" should that time ever happen.
If Mr. Sundle's 28A 30-30 ammo will successfully penetrate three or four healthy deer who knows how many "walkers" one round of his ammo would bisect and bring to a halt. Throw in a 50 round bandoleer of 30-30 ammo, a Tyler Gun Works "hawk" and Bowie knife and a person could go a long way in protecting what is theirs in time of crisis. Especially with some training and real world experience occurring with these tools in the prior peaceful world.
You can bring home the bacon and save your bacon all with the same tool, a Henry H015 30-30 chambered in a cartridge that has been doing that very thing since before the Spanish American War.
It took some extremely sharp and talented Henry Wisconsin, engineers and craftsmen, to design and build the single-shot rifle but the average person can successfully and rapidly train to deploy this rifle for their first deer season or their first crisis.
Hunt with a Wisconsin Henry and be ready for any situation with a Henry rifle in the meantime. Can you tell I love the Henry brand?
---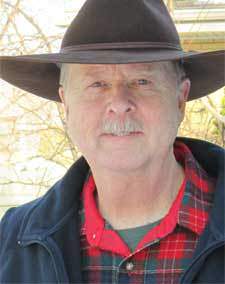 About Major Van Harl USAF Ret.:
Major Van E. Harl USAF Ret., a career Police Officer in the U.S. Air Force, was born in Burlington, Iowa, USA, in 1955. He was the Deputy Chief of police at two Air Force Bases and the Commander of Law Enforcement Operations at another. He is a graduate of the U.S. Army Infantry School.  A retired Colorado Ranger and currently is an Auxiliary Police Officer with the Cudahy PD in Milwaukee County, WI.  His efforts now are directed at church campus safely and security training.  He believes "evil hates organization."  [email protected]