Opinion
Virginia – -(AmmoLand.com)- Virginia now has 41 sanctuaries! Tuesday, we got 11!
Alleghany County
Amherst County
Culpeper County
City of Norton
Gloucester County
Goochland County
King George County
Middlesex County
Orange County
Page County
Roanoke County
Four did not vote tonight, but had hearings:
Danville
Fairfax County
Virginia Beach
York County
Details:
Alleghany County – unanimous vote with over 500 in attendance. Meeting moved to middle school because of crowd size.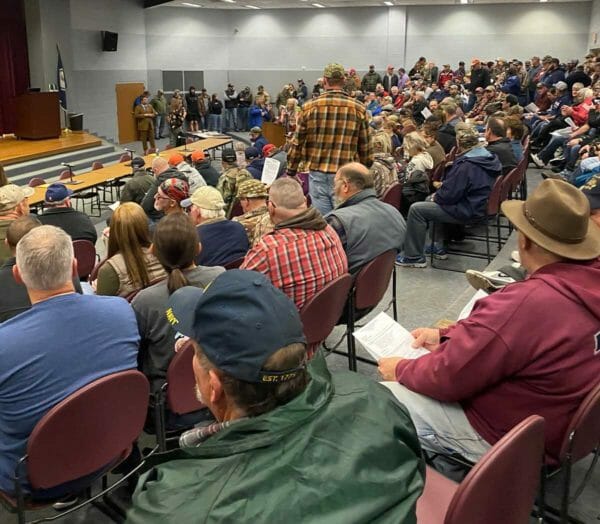 Amherst County – vote was unanimous. Media coverage:
https://wset.com/news/local/amherst-county-votes-to-becomes-second-amendment-sanctuary
–
Culpeper County – vote was unanimous. Media coverage:
https://www.fredericksburg.com/news/local/culpeper-becomes-a-nd-amendment-sanctuary-county/article_c619fa53-8df8-5fc8-89fa-f9fc8aceb184.html
–
City of Norton – vote was unanimous. Media coverage:
https://www.timesnews.net/Local/2019/12/03/Norton-council-passes-gun-rights-sanctuary-resolution.html?ci=stream&lp=1&p=
–
Gloucester County – vote was unanimous. Huge turnout. Media coverage:
https://www.13newsnow.com/article/news/community/gloucester-county-board-unanimously-passes-second-amendment-sanctuary-resolution/291-6c990921-d959-4a28-b1fb-9b885cd5c9fb
–
Goochland County – vote was unanimous. Overflow crowd. Media coverage:
Goochland passes resolution protecting citizens' 2nd Amendment rights
King George County – vote was unanimous. Standing room only, with more than 100 people outside.
–
Middlesex County – passed with 3 ayes, no names, and one abstention. The large turnout required a move to a middle school!
Orange County – things started to drift off course over the language of the resolution, but VCDL Founder, Paul Moog, provided the Board with language that worked and it was adopted! Estimated to have over 750 people in attendance. Media coverage:
https://www.dailyprogress.com/news/orange-county-supervisors-support-second-amendment/article_67a5dc98-1658-11ea-bfd4-7740a8ef0c24.html
–
Page County – vote was unanimous. Overflow crowd with 150 or so outside.
–
Roanoke County – unanimous vote. YES! Media coverage:
https://www.wdbj7.com/content/news/Roanoke-County-Board-votes-unanimously-to-become-Second-Amendment-Sanctuary-565753381.html
–
Danville – heard from gun owners, but no action yet.
https://www.godanriver.com/news/local/gun-rights-supporters-pushing-danville-city-council-for-second-amendment/article_e6dce96f-209d-58fe-bf9c-492e6f6cd22a.html
–
Fairfax County – crowed filled a huge auditorium and overflowed. No actions were yet taken by the Board of Supervisors.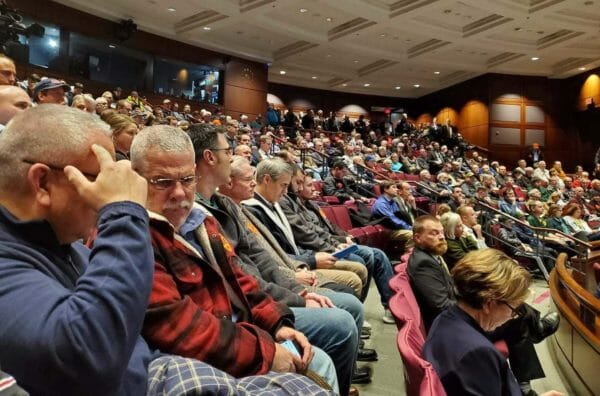 Report from VCDL member Zeke Y.
I was at the Board of Supervisors meeting in Fairfax tonight handing out stickers.
The scheduled start time for the public comments session was 16:30. Instead, we started two and a half hours late at 19:00. Turnout was great. According to the fire code sign, the room's max capacity was 440 people and the guards told me we met that fairly early on, I'd guess around 17:15. We had people standing in the lobby to watch on a TV until the auditorium emptied out a little (due to running extremely late and the session before us finally ending)
I talked with two different people about the crowd size. One has worked security in the building since July, and the other has been in the building working at these meetings for 15 years. Both told me this was the biggest turnout to a BoS meeting they'd ever seen.
After the session before us finished, I'd guess there were maybe 380-410 people in the audience, and at least 3/4 of them were pro-gun, judging by the GSL stickers in the room. I estimate I went through 500 or so stickers, and I saw several other people handing out stickers as well.
The board itself was unresponsive and declined to introduce a 2A Sanctuary resolution. The crowd was told to be quieter in our applause for pro-gun speakers several times.
Several of the speeches were good, but I was most impressed with the two pro-gun ladies who spoke. One works in healthcare and got a CHP after a police detective advised her to because they didn't have resources to deal with a mentally ill patient threatening her. The other is a four-time Virginia state champion in a shooting sport, is in JROTC, and a sophomore in high school.
–
Virginia Beach – City Council will now consider introducing a sanctuary bill in the near future. A massive turnout, estimated at between 1,000 and 1,500 individuals. Filled up the meeting room, down the hall, out the doors and flooded the area at the front of the building. After I addressed City Council, EM Brendan Moonie, Board member Gary Moeller, and I addressed the crowd outside.
York County – Board of Supervisors will vote on a resolution at their next meeting. Big turnout needed for that vote.
---
About Virginia Citizens Defense League, Inc. (VCDL):
Virginia Citizens Defense League, Inc. (VCDL). VCDL is an all-volunteer, non-partisan grassroots organization dedicated to defending the human rights of all Virginians. The Right to Keep and Bear Arms is a fundamental human right.
For more information, visit: www.vcdl.org.