U.S.A. – -(Ammoland.com)- "Justin Trudeau is pushing for stricter Canadian gun laws after deadly shooting in Nova Scotia," CNN gushes approvingly in a Tuesday report. "Trudeau said while campaigning last year that he wanted to ban assault-style weapons across Canada and set up a buyback program for all military-grade weapons that had been legally purchased. Legislation was about to be introduced when Parliament was suspended over the coronavirus pandemic, Trudeau said."
That's a pretty specific response to a crime for which so many details have yet to be released. That makes it fair to ask what is known at this time, and whether or not more controls in a country already "categorized as restrictive" by GunPolicy.org ( a project of the anti-gun Sydney School of Public Health) would have made a difference.
So what do "we" know based on released information?
The killer was reportedly dressed in a Royal Canadian Mounted Police uniform ("or convincing replica" and "driving a car that appeared to be a police vehicle." He was said to be "obsessed" with the RCMP and had erected what is being described as a "shrine" to them in his home.
Assuming the persona of a law enforcement officer, he "pull[ed] victims over in his fake police vehicle before executing them point-blank."
If anything, what the reports indicate is private citizens ought to be on guard not just against police being the "Only Ones" with guns, but with another not uncommon phenomenon I've posted accounts about for years on my The War on Guns blog, police impersonators. I have a substantially populated category dubbed "The Fauxnly Ones files, " and these are stories I encourage readers to be aware of. That's because the preponderance of such occurrences demonstrates a  not-unheard of chance that someday they may face legal repercussions for having reasonable doubts about the authenticity of an aggressor claiming to be a police officer, and for not complying and/or resisting based on those doubts.
There's one glaring omission from the news reports still unresolved at this writing, and this one falls squarely on the authorities to clear up:
"As gun control debate looms, no answers yet on what firearms were used in Nova Scotia mass killing," the National Post reports. "The RCMP declined to say whether the guns were classified as prohibited, restricted or non-restricted and whether the shooter had a firearms possession license."
Why not? Surely they know.
Whether that's cleared up between the time this report is being filed on Tuesday afternoon and the time it is posted is unknown at this writing. What is clear is that, like all blood-dancing gun grabbers, Justin Trudeau has plans ready to drop into place the moment he perceives the timing is "right" to exploit a situation to his advantage.
---
About David Codrea: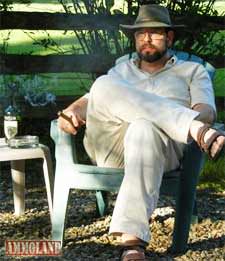 David Codrea is the winner of multiple journalist awards for investigating/defending the RKBA and a long-time gun owner rights advocate who defiantly challenges the folly of citizen disarmament. He blogs at "The War on Guns: Notes from the Resistance," is a regularly featured contributor to Firearms News, and posts on Twitter: @dcodrea and Facebook.