U.S.A. – -(Ammoland.com)- The City of Marfa, TX faces a lawsuit if it keeps a gun show from taking place at the Marfa Activity Center this coming weekend, a demand letter (below) from attorney Warren V. Norred advised city, county and state officials Monday. He's the attorney recently in the news for helping win an order by the Texas Supreme Court to release Dallas salon owner Shelly Luther from jail after she defied shutdown orders and reopened her business.
The firm represents Gregory Romeu and his business, Devil's Advocate Armory, which paid fees for the show in February, and which was advised at the last minute that it now won't go on, ostensibly due to COVID-19 fears. That will cause substantial financial loss, Norred documents:
"Mr. Romeu has already expended thousands of dollars to prepare for this show, including but not limited to local catering, use of hotels by vendors, radio ads, ensuring sufficient help to run the operation. Each of the approximately 60 vendors expects to make a profit ranging from $500 to $10,000 over the weekend. That's profit, and not merely income. If we assume $4,000 profit, the lost profit for Mr. Romeu and his vendors will exceed $250,000."

"My analysis is that Marfa's case is much weaker than that of Dallas," Norred told city leaders. "You have an actual contract with Mr. Romeu.

"Yes, it's true – the virus fear showed up around that time, and a lot of people have shut down a lot of commercial activity based on that fear," Norred acknowledged. "And if the City had contacted Mr. Romeu in February or March or even April, the parties could have perhaps worked something out. However, none of that happened."

"[W]hat [the city] cannot do is form an agreement to lease its building, take my client's money, and then a week before the show make a decision to breach that contract based on zero cases of COVID-19 and a Governor's executive orders concerning the COVID-19 virus to stop a gun show after months of inaction," Norred asserted. He bolstered that by "attaching the opinion of Attorney General Paxton's March 27, 2020 Opinion … which makes clear that emergency orders do not stop gun sales."
"The person that runs the Marfa Visitor Center / USO operation in Marfa, Texas literally begged me to start running gun shows again in that town since the last producer moved away years ago," Romeu tells AmmoLand Shooting Sports News. "[She] observed my activity on and passing of the Second Amendment Sanctuary Resolution for Presidio County last July, she was constantly egging me on to start running the shows in the larger 80 table venue available, the Marfa Activity Center,  vs. the 40 table visitor center that was normally used.
"I ran the first show Veterans Day weekend last year and was able to sell 17 tables. Now with the attention out across the gun world, I've got 58 tables sold.
"After paying the rent for the building in mid-February and spending thousands on banners, radio spots and three road trips from Presidio to El Paso to Midland, Tx and back to promote the show, the city of Marfa waited until a week ago via an administrator's assistant, to tell me they were not opening any city buildings for the next 60 days due to COVID-19 when all businesses across Texas are opening and once again beginning to thrive," Romeu continued. "They did not tell me about them shutting this building down until a week ago which causes severe damage to not only myself but the vendors and the public as well."
The plan now is to "gather much-needed funds … should we move this simple matter into the courts," Romeu says. "Some $5-10 thousand is needed for Mr. Norred to proceed to court, funds I would have gladly paid out in this matter had I not spent it in producing and promoting this show for the City of Marfa."
Gun owners who agree that a city reneging on its commitments and closing down gun show venues like this affects us all can help by supporting a trust set up to finance this case. Contributions, which will only be used if the case goes forward, can be sent to Norred Law, PLLC, 515 E. Border Street Arlington, TX 76010, specifying "Devil's Advocate Armory."
---
About David Codrea: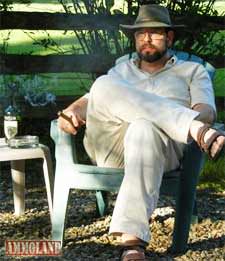 David Codrea is the winner of multiple journalist awards for investigating/defending the RKBA and a long-time gun owner rights advocate who defiantly challenges the folly of citizen disarmament. He blogs at "The War on Guns: Notes from the Resistance," is a regularly featured contributor to Firearms News, and posts on Twitter: @dcodrea and Facebook.