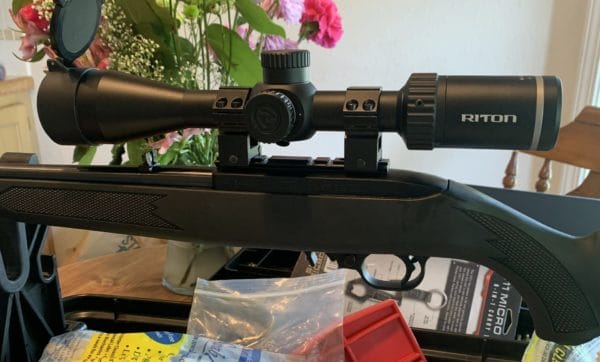 U.S.A. –-(AmmoLand.com)- As a kid on up until not that many years ago I always bought cheap 3-9x scopes for my .22's. My figuring was that a .22 can't shoot that far anyway so why buy a good scope. In the last 15 years I've changed that stance though. Here's why. Granted, we're not making 200-300 yd. shots but we are hunting small game with a small kill zone. Plus, it is hard to see small ground squirrels when they're out over 50 yds. with a 3-9x. So now I have 12x up to 16x on my rimfires.
So with the above said, I recently tricked out a Ruger 10/22. I was going to make it a shooter so I wanted to be able to make longer shots with it which meant that I needed a higher magnification scope. After looking around I figured that the Riton Optics X1 Primal 4-16x scope was the one that I was looking for. It has good glass, was super economical and has a great warranty.
Another unique feature is the RUT reticles. It somewhat has the beginning of a normal Duplex crosshair but the top post is cut short. Designer Jeremiah Alexander did this so you have a clear field of view of your animal. He is obviously proud of this scope (and rightfully so) and claims this is an awesome reticle because of the precision increments plus the scope has a nice field of view. The throw lever aids in ease of magnification adjustments and has capped, zero resettable turrets to put you right on target every time.
Alexander also put tic marks that are at 1 moa. Alternating clicks are enlarged for easy acquisition to point out every 200 yd. increase. It is a unique design but I think that I'm going to like it once I get used to it. At first, I was hesitant that it didn't have a full crosshair. The center spot has a small dot. I was afraid that it would be hard to get a tight group with this configuration but upon shooting the rifle those fears proved to be unfounded. I got down to a 1/8-inch group and that was with 11 mph winds which adversely affected me in holding still plus, my target was slightly wobbling. I can't wait to shoot again when we have >5 mph. winds. I should be able to get 1/16-inch groups.
In the past I believe all of the Riton scopes were 30mm but now they're producing some with 1-inch tubes. I like this. They are lighter in weight and saves you from having to buy different sized scope rings.
The magnification offering is unique. On all of my other scopes that start out at 4x, they only go up to 14.5x. This one starts at 4x but goes up to 16x. Here's why I like this. When taking short range shots, running shots or hunting dangerous game, I like a lower magnification for fast acquisition. But for further shots I like to be able to crank the power up. 14x is good but 16x is even better. To get a 16x in a lot of other scopes the bottom is raised up to 6x. The Riton Optics X1 Primal 4-16x offers the best of both worlds on both ends of the spectrum. I like that.
So with all of the above said, I think that for all of the features that you get, the new Riton Optics X1 Primal 4-16×44 scope is a great deal with an MSRP of only $279.99. You get a lot of scope for the money.
SPECS:
Objective Lens Diameter: 44 mm
Magnification: 4 – 16 x
Reticle: RUT
Tube Diameter: 1 in
Reticle Focal Plane: Second Focal Plane (SFP)
Exit Pupil: 2.8 – 11 mm
Field of View, Linear: 24.1 – 6.3 ft at 100 yds
Eye Relief: 100 mm
Color: Black
Weight: 22 oz
Fabric/Material: 6061-T6 Aluminum
Length: 12.87 in
Width: 4.7 in
Height: 3.9 in
Illumination Type: Non-Illuminated
Illumination Color: None
Adjustment Type: MOA
Adjustment Click Value: 1/4 MOA
Adjustment Range: 95 MOA
Parallax: 10 yds to infinity
Lens Material: HD Glass
Optical Coating: Fully Multi-Coated
Light Transmission: 99.5 %
Attachment/Mount Type: Ring
Water Resistance Level: Waterproof
Shockproof: Yes
Fogproof: Yes
Finish: Type III Hard Coat Anodized
Package Type: Box
Magnification Type: Variable
---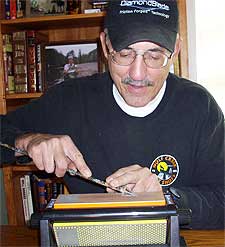 About Tom Claycomb
Tom Claycomb has been an avid hunter/fisherman throughout his life as well as an outdoor writer with outdoor columns in the magazine Hunt Alaska, Bass Pro Shops, Bowhunter.net, and freelances for numerous magazines and newspapers. "To properly skin your animal, you will need a sharp knife. I have an e-article on Amazon Kindle titled Knife Sharpening #ad for $.99 if you're having trouble."
Disclosure: Some of the links below are affiliate links, meaning at no additional cost to you, Ammoland will earn a commission if you click through and make a purchase.