Maryland – -(AmmoLand.com)- Guyette & Deeter is pleased to announce the results of their 'Annual Spring Decoy and Sporting Art Auction', which took place on May 29th & 30th, 2020, from St Michaels, Maryland.
Realizing proceeds that surpassed the $3,000,000.00 mark, this event certainly more than exceeded everyone's expectations! We were able to set 28 new world auction records for Makers, and realized a sell-through rate of 98.9 percent!!
Although this was our first auction conducted exclusively by phone, absentee, and online bidding, our buyers' enthusiasm was certainly not diminished in the least! The excitement was highly palpable the moment the very first lot – a stunning pair of Shovelers from the Mason Decoy Factory, came up for auction. After a burst of energetic bidding, these decoys sold above estimate at $56,400.00. "And so the spirit of the event took wings!" Buyers' passions for these rare pieces remained extremely strong throughout with sale, with many lots selling for substantially more than their estimates.
The sale was highlighted by the first offering of several select decoys from the prestigious collection of Dr. Lloyd T. Griffith. These previously unavailable treasures included a Robin Snipe by Nathan Cobb, Jr., which sold for $90,000.00, and a Teal by A.B. Vance, that brought a closing bid of $64,800.00.
The unforgettable 'sale topper' was a magnificent Swan by Charles Birch, which was acquired by an extremely happy buyer for $132,000.00!!
Bidding remained strong throughout the entire two-day auction, as prices for sporting art also exceeded expectations. One lovely oil on canvas of Two Hunting Dogs, by Edmond Osthaus brought $48,000.00. Setting Canvasbacks by Sir Peter Scott fetched double estimate of $18,000.00 for the seller, and a Lynn Bouge Hunt cover art illustration for Field & Stream magazine brought $11,400.00. We are pleased to report that a unique offering of various Fish Decoys and Duck Calls collectively set many new records as well!
In observance of our Nation's social distancing guidelines, this auction was held without a live audience. Only phone, absentee, and online bidding was employed by utilizing 14 phone lines, and online bidding through three different platforms – Invaluable, Bidsquare, and LiveAuctioneers. Mr. James D. Julia and Mr. Dudley Brown masterfully handled the bid calling for this event. Well Done Gentlemen!
The sale featured decoys and sporting art from the collections of longtime decoy collectors Dr. Lloyd T. Griffith, David & Lynn Meyer, Phil Mott, Richard Perkins, and Dick & Diane Walters.
World auction records were set for Ferdinand Homme (Stoughton, WI), A.B. Vance (Philadelphia, PA), Danz Manufacturing Company (St. Paul, MN), Alma Fitchett (Smith Island, VA), Hays Finkle (Saginaw Bay, MI), Andy Trombley (Mt. Clemens, MI), Jim Kelson (Clinton River, MI), Abe DeHate (Mt. Clemens, MI), Dan Vandenbosche (MI), Tom Turpin (Memphis, TN), Sidney Foret (Raceland, LA), Warner Wiles (Jonesborg, AR), Alfred Hebert (Montegut, LA), Doc Taylor (Gleason, TN), Joseph Kempinger (Oshkosh, WI), Tiff Roseberry, Sr. (Murphysboro, IL), John Morrow (Flint, MI), G.D Kinney (Pine Bluff, AR), William Pepper (Rocky River, OH), Arthur Cantrall (Galliano, LA), Madison Mitchell (Havre de Grace, MD), Pete Peterson (Cape Charles, VA), William Gibian (Onnancock, VA), Danny Scrivens (Detroit, MI), Scott Young (New Orleans, LA), Jack Franco (Assonet, MA), George Morrell (New Orleans, LA), and Eddie Granier (Vacherie, LA).
The Guyette & Deeter staff would like to issue a sincere 'Thank You' to all those who entrusted their treasures with us for auction, and equally to our clients who purchased these rare and beautiful items. May they bring you much joy for many years to come.
Guyette & Deeter's next auction will be held August 18 & 19 at the Sheraton Harborside Hotel in Portsmouth, New Hampshire. A 50 table dealer show will be at the same location. Contact the Sheraton at 603-431-2300 for discounted room rates.
A preview for the July auction is viewable on the Guyette & Deeter website. Quality consignments of decoys, decorative carvings, and flat art for the sale will be accepted until June 25 or until full.
---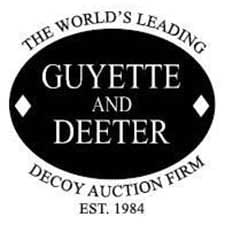 Guyette & Deeter, Inc., established in 1984, is the world's largest decoy auction firm with over $183,000,000 in decoy sales. They hold three cataloged auctions per year; St. Charles, Illinois in April; Portsmouth, New Hampshire in July; and Easton, Maryland in November. For more details, visit their website at www.guyetteanddeeter.com. The firm also conducts weekly online auctions at www.decoysforsale.com. Since 1989, Guyette & Deeter has dominated the decoy auction market. In January 2007, Guyette & Deeter, in conjunction with Christie's (New York), sold a merganser hen by Lothrop Holmes for a world record auction price of $856,000.
Guyette & Deeter provides free and confidential decoy appraisals to anyone sending a decoy photo and stamped, self-addressed envelope to: Guyette & Deeter, PO Box 1170, St. Michaels, MD 21663. For email send to: Gary Guyette: [email protected], Phone: 410-745-0485. or Jon Deeter: [email protected], Phone 440-610-1768.