U.S.A. – -(Ammoland.com)- "Gun owners are putting their metal where their manhoods are in a bizarre trend that sees men courting danger to prove how well they can manage a gun," The Guardian reported Saturday. "Those participating in the meme do so by pointing their gun at their genitals with the safety off, placing their finger over the trigger, and posting a photo of it on social media. And voilà, just like that – proof they are very manly."
It's a weird twist on "Markley's Law," which is when antis, who invariably consider themselves witty and original, equate gun ownership with inadequate penis size.  That in itself further shows "progressive" hypocrisy, as they're the ones  who make a point of getting indignant over "body shaming."
The Guardian story cites a tweet by Dylan Park (contains uncensored language), a writer of decidedly non-"conservative" sympathies, who calls those putting their packages at risk as "MAGA dolts." While admitting he's unsure as to motive, his guess is those posting the shots are doing so to prove guns are safe in order to "own the libs."
Not so says another "progressive" outlet (that occasionally employs a journalist who gets some things right).
"[P]ointing a gun at your penis has nothing to do with owning the libs and everything to do with ironically mocking basic safety in gun culture," Vice claims (contains uncensored language).
It's supposedly being done to troll, to make fun of those who advocate gun handling and trigger discipline, that is, rules taught by arguably the most qualified "commonsense gun safety" advocate in my lifetime, "gunners' guru" Jeff Cooper:
RULE 1: ALL GUNS ARE ALWAYS LOADED

RULE 2: NEVER LET THE MUZZLE COVER ANYTHING YOU ARE NOT PREPARED TO DESTROY

RULE 3: KEEP YOUR FINGER OFF THE TRIGGER TIL YOUR SIGHTS ARE ON THE TARGET

RULE 4: BE SURE OF YOUR TARGET
As an aside, Vice misses the boat on defining what a "Fudd" is. They'd have benefited from relying less on preconceptions and more on seeing what the "gun culture" they presume to be qualified to  write about has to say on the subject, case in point a comprehensive explanation from Lee Williams, "The Gun Writer."
The "culture" they did check is the Facebook group Gun People Who Hate Gun People, where posters there evidently find humor in the reaction to "edgy internet trolls ironically point[ing] guns at their [B]enis."
At the end of its article, Vice also couldn't resist a wholly manufactured opportunity to equate the "irony" with murderous racism, which, of course, is the point (and the reason why so many in the subversive camp love to cite the Southern Poverty Law Center).  That and spreading Alinsky Rule 5 ridicule.
Fortunately, the "guncrotch" phenomenon is not widespread, which is why the media pointing and screaming is needed to make the "trend" appear larger than it is. What's not clear from all of this is how many people have actually participated in this stupid trolling who can be actually identified. No doubt there are probably a few immature useful idiots who identify themselves as being opponents of "gun control," but the benefit of anonymity also means some of the posers could literally be that, provocateurs out there trying to make gun owners look like morons in order to influence public opinion to support disarmament edicts.
Because that is exactly what this does.
---
About David Codrea: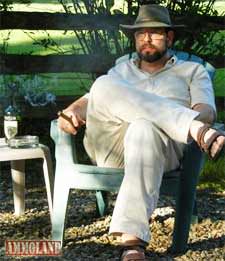 David Codrea is the winner of multiple journalist awards for investigating/defending the RKBA and a long-time gun owner rights advocate who defiantly challenges the folly of citizen disarmament. He blogs at "The War on Guns: Notes from the Resistance," is a regularly featured contributor to Firearms News, and posts on Twitter: @dcodrea and Facebook.