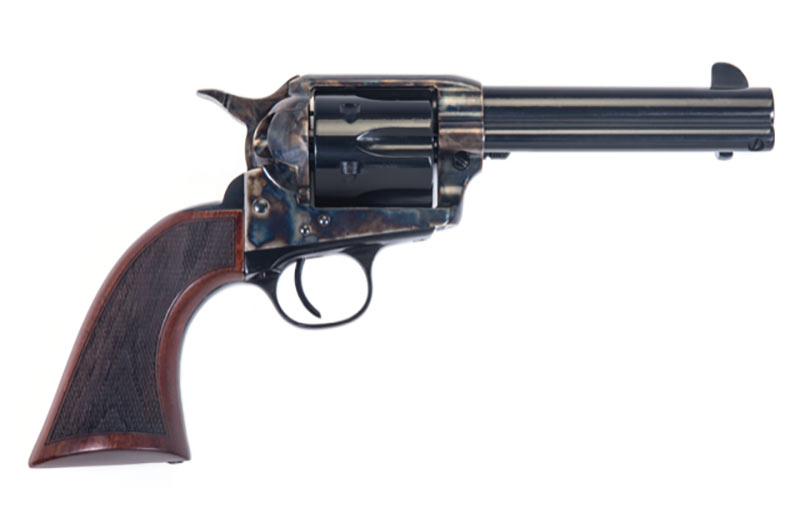 U.S.A. -(AmmoLand.com)- Taylor's & Company, the world's leading marketers and importers of state-of-the-art historical firearms utilizing the latest innovative designs is pleased to announce the addition of the "Gunfighter Defender" revolver to their Performance Series for 2022.
"We couldn't be more excited to bring this classic firearm to the modern gun enthusiast," said Rob Girard, Vice President of Sales and Marketing, Taylor's & Company. "The Gunfighter Defender is a perfect complement to our very popular Performance Series. This classic revolver has a flat low hammer spur and offers a different experience for faster sight acquisition, it's a gun that fits just right in the hand. This large army-size gripped revolver has a very classic gunfighter look and feel not to mention it's available with the unique Taylor Tuned action."
The Gunfighter Defender is a perfect combination of the original Gunfighter features and the favorite lowered Runnin' Iron hammer. Taylor's installed the favorite 1860 Army grip onto the new model frame cattleman to accommodate the larger-handed shooter. The Army grip is longer and slightly wider than the smaller Navy grip that is usually found on 1873 single action models. This model features a case-hardened forged steel frame, blued steel parts, lowered hammer spur, and a checkered Army Size walnut grip.
The Taylor Tuned Gunfighter Defender comes ready to shoot out of the box featuring a hand polished action and our custom springs. Taylor's gunsmiths custom tune guns specifically for each order. Be the first to carry Taylor's newest arrival.\
Models Available:
Caliber:       Length:
.357 MAG     4.75"
.45 LC           4.75"
.357 MAG     5.5"
.45 LC          5.5"
MSRP: $704.46
MSRP Taylor's Tuned models: $847.71
To learn more about the Gunfighter Defender revolver and the complete product offerings from Taylor's & Company, please visit www.taylorsfirearms.com or follow us socially @taylorsfirearms.
---
About Taylor's & Company
Founded in 1988, Taylor's & Company, headquartered in Winchester, Va., is an importer of firearms, including revolvers, rifles, and shotguns. The company specializes in reproduction Civil War firearms through the end of the Old West era, hunting firearms, and 1911 tactical pistols. It markets its products through dealers and distributors nationwide and assists consumers in obtaining a dealer for firearm transfers as needed.  It seeks to serve all types of shooters, from competitive shooters to collectors to outdoor enthusiasts to firearm history buffs. For more information, visit taylorsfirearms.com.