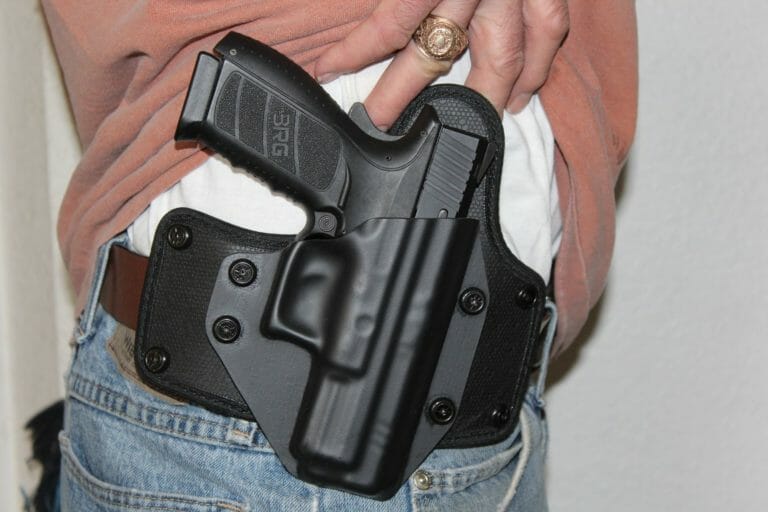 U.S.A. –-(AmmoLand.com)- I don't want to be a drama queen but which holster you pick is almost as important as which pistol you pick. Here's why I say this. If your pistol is not readily accessible or slow to be able to remove from your holster or awkward to do so, it really doesn't matter how good of a pistol that you own because you never get to pull it out and defend yourself.
I recently got myself a BRG9 Elite 9mm pistol and needed to get a holster for it since it is going to be my new EDC. It is a solid built, 16 +1 capacity 9mm so it is a great self-protection pistol for around town. A buddy of mine loves Alien Gear holsters so I thought I'd check them out. Below are some of my thoughts/desires on holsters.
If your holster is uncomfortable to wear, you'll be inclined not to wear it and a pistol left at home…. is pretty much the same as not owning a pistol at all. Another factor that I look for in choosing an EDC pistol holster is that I want it to be set semi-high on my hip so it is semi-concealed and for sure it is concealed if I leave my shirttail out or am wearing a windbreaker.
Granted I don't want my holster setting too high or it is awkward to pull out my pistol. But I for sure don't want it down on my thigh fully exposed like I'm a Western gunslinger! I live in an Open Carry state. Not right or wrong but I hardly ever carry open unless I'm up in the mountains, hunting, fishing, or backpacking. I want the element of surprise on my side if I ever need my pistol.
So, it's not a matter of right or wrong, but the above is what I look for in my EDC holster even if it is not a verbatim concealed carry holster. And for my desires, the Alien Cloak Belt Holster checks all the boxes to keep me happy.
It sets up on my waist somewhat, is easily accessible, and is for sure comfortable to wear. I've flipped my four-wheeler a couple of times and got bucked off a horse wrong once so due to my lifestyle, my hip is a little tweaked. So for me, a hard holster can be a little uncomfortable to wear if it rides in the wrong spot. The Alien Cloak Belt Holster disperses the weight of the pistol over a larger area than a conventional holster does and is softer than the rigid hard plastic-type of constructed holsters.
The Alien Cloak Belt Holster is an OWB holster. It can be ordered in either 1.5-inch or 1 ¾-inch width, depending on which size belt you wear. The actual holster is constructed out of some kind of hard plastic that is attached to a base that is neoprene. The base provides cushioning which makes it comfortable to wear. It is a very comfortable holster to wear. If I run out for a while and slap it on, I'll notice hours later while I'm working at home that I still have it on. It is so comfortable that I forget that I even have it on.
The MSRP on the Alien Gear Cloak Holster is $51.88 and we will close with the company's description.
The holster base has belt loops on the back, in either 1.5″ or 1.75″ widths depending on which belt you normally use. This puts this belt holster up high and tight to the body making concealment incredibly easy, with as little as an untucked shirt being needed for complete cover.
The holster base is reinforced with edge-to-edge layers of woven ballistic nylon and spring steel. This gives the holster a firm but flexible core, supporting the pistol but also flexing to fit your shape. The combat cut gives you a fast and full firing grip, and the sweat shield keeps the slide and controls covered.
The holster base is padded with our CoolVent neoprene. This is a ventilated neoprene fabric, providing cushioning but also wicking away sweat and moisture and letting the skin breathe. You can wear it against bare skin without issue, for hours on end. You may forget you're wearing it!
The custom-molded retention shell is adjustable for passive retention, giving you the secure fit and sure draw needed from any concealed carry holster. You can even dial in the retention profile with the mounting hardware, or even customize it with the included Parts Pack.
The Alien Gear Cloak Belt Holster is made in the USA, and we back this product with our Iron-Clad Guarantee. This includes a 30-day Test Drive return policy and our Forever Warranty, a lifetime warranty on the holster itself. If you trade in your gun for a new one, we'll even trade retention shells with you so you can keep using the holster.
---
About Tom Claycomb
Tom Claycomb has been an avid hunter/fisherman throughout his life as well as an outdoor writer with outdoor columns in the magazine Hunt Alaska, Bass Pro Shops, Bowhunter.net, and freelances for numerous magazines and newspapers. "To properly skin your animal, you will need a sharp knife. I have an e-article on Amazon Kindle titled Knife Sharpening #ad for $.99 if you're having trouble."