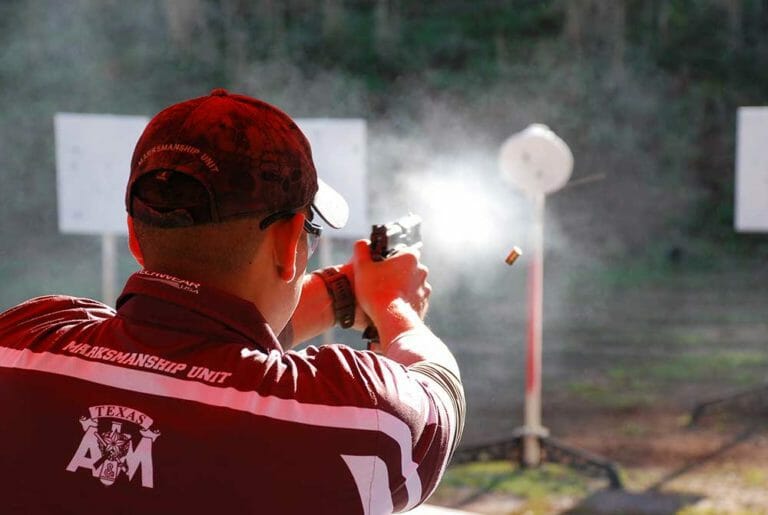 U.S.A. –-(AmmoLand.com)- On Sunday, March 13, 2022 at the CMP Talladega Marksmanship Park in Talladega, Ga., the CCMU 9-A Centerfire Team, firing three Glock 34's, a Walther PPQ and Orr Tactical ammunition, won the Scholastic Action Shooting Program (SASP) 2022 National Championship.
The cadets from Texas A&M have now won this event in 7 of the last 9 years reaching back to 2013.
The CCMU Centerfire 9-A team won the event and the national title, while three other CCMU centerfire teams composed primarily of freshman and sophomore cadets also competed in the match (a SASP team is a four-person squad, the team score for the competition is the total time of the four individuals on the squad.)
At the national championship match, there are many divisions in which to compete such as: rimfire rifle and pistol, rimfire rifle and pistol with optics, PCC, etc, but the National Championship Trophy Pistol Cup named for Daniel Hodne is awarded only to the highest-scoring team firing striker-fired centerfire pistols.
The CCMU 9-A National Championship Team:
Cadet Joshua Delgado '22
Cadet Holdon Perez '22
Cadet Rheily Garcia '24
Cadet H. "Gage" Lange '24
The CCMU 9-A team also won 2nd place in the 1911 pistol division firing their Staccato (formerly STI) of Georgetown, TX 2011 9mm iron-sighted pistols. A testament to the quality and shootability of these Staccato handguns is that the 9-A cadet team did not fire these handguns in practice prior to competing at nationals so as not to interfere with their training and preparation for firing their striker-fired handguns.
The 2022 national championship match was attended by 16 college programs from across the United States, the most notable of those institutions that fired the match was United States Military Academy at West Point (USMA).
The cadets of the CCMU also retained possession of the top two awards for individual performance for the match: High Overall Centerfire Shooter, and Second High Overall Centerfire Shooter. This marks the second year in a row CCMU cadets have swept the top two positions, and since 2016 they have placed a shooter in at least one of the top two positions every year.
The top two individual Centerfire scores in the match were fired by CCMU cadets led by CCMU senior Cadet Joshua Delgado '22. Cadet Delgado improved on his 2nd place performance at the 2021 Collegiate Nationals, and he has secured the High Overall Centerfire trophy for the CCMU for the second consecutive year.
The 2nd place individual Centerfire score was fired by Cadet Holdon Perez '22. Cadet Perez was only narrowly edged by his teammate Delgado. It has been a long year of competition for these two seniors as Cadet Delgado was second to Cadet Perez at the 2021 College Nationals by less than one-half of one second. Cadet Perez completes his time on the CCMU with one Individual Centerfire HOA Championship, two second place finishes and a third place finish. An amazing run of consistent high performance. He has also won other division individual awards at the Nationals as well.
CCMU junior, Cadet Emilie Brown '23, finished as the 2nd place Female Centerfire shooter in the match. Cadet Browne joins a long line of highly successful female cadets from the CCMU over its ten-year history and she will be a force to be reckoned with in her upcoming senior year.
CCMU Coach Kevin Jimmerson '89 commented, "It is a great honor for me to lead this team as their Coach. The team is very young this year with only two senior cadets and five junior cadets to lead by example. Our four teams at this Nationals were composed primarily of freshman and sophomore cadets. Our Championship 9-A team was composed of two seniors and two sophomores, who were in way over their heads but performed exactly to the standard I asked of them. This match, in this venue, places a lot of stress on the competitors and our underclassmen stayed focused and performed well. The next few years are going to be a lot of fun!"

Coach Jimmerson added, "Our male and female cadet leadership at all levels have worked very hard to lead this team. The professional leadership skills they learn in our Corps of Cadets at Texas A&M have never been more evident. Our cadets are dedicated to each other and to Excellence. They never lose sight of the fact that we win and lose together as a team and they always focus on the serious elements of what we do, while still having fun as we work at it."

Texas A&M Corps of Cadets Marksmanship Unit
The CCMU trains and competes in action shooting sports with other college teams, against active duty military and law enforcement in sniper competitions and at 3Gun matches around the country. The team also works to grow participation in the shooting sports at all ages and among both men and women.
The CCMU's next competition event is The SIG Relentless Warrior Championship on April 9th at SIG Academy in New Hampshire. This combat style 3Gun-oriented match is attended by the US Service Academies, The United States Senior Military Academies, The US Coast Guard Academy and this year, the Royal Canadian Military Academy. This event has not been held in person since 2019 due to COVID. The cadets of the CCMU are looking forward to returning the match trophy to College Station after winning this match for four consecutive years (2015-2018) and placing second (with the high overall individual shooter) in 2019.
The CCMU is very grateful to its industry sponsors for their support of this team and its activities both on and off the range. The cadets of the CCMU want to recognize all of the companies large and small and individuals who graciously sponsor the team for their continued support and also the team's primary equipment sponsors that aided in this win: Orr Tactical ammunition, Glock, Walther, Kryptek, TRUGLO, MagPul, Apex Tactical, Vista Outdoor, Safariland, Adams Arms, SIG SAUER, Suppressed Weapon Systems, Bergara, Leupold, Steiner, Primary Arms, Kahntrol Solutions and many others for the cutting edge gear they provide. We also thank the Texas A&M TEEX, Tier 1 Group and The Mid-South Shooting Institute for the use of their ranges and training facilities. We cannot thank these businesses for their support of our future officers and community leaders.
The CCMU was officially formed in December of 2011 as one of a dozen Corps Athletics teams. Today's team represents the latest in over 100 years of history of marksmanship teams competing for the Corps of Cadets at Texas A&M University. The CCMU fields competitors in the action pistol sports, steel pistol sports, 3Gun, Law Enforcement SWAT competitions and sniper related competitions. Team members are drawn exclusively from the 2,700 men and women of the Corps of Cadets who are all undergraduates at Texas A&M. Scholarships and in-state tuition are also available for CCMU cadets.
The cadets of the CCMU are supported and funded through the Office of The Commandant of Cadets, Texas A&M University, the Texas A&M Foundation and the CCMU Foundation, a non-profit institution committed to sustaining cadet marksmanship excellence. Please contact them to make a tax-deductible donation on the teams behalf.
For more information on the Corps of Cadets at Texas A&M University, visit https://corps.tamu.edu/. For information on the Corps of Cadets Marksmanship Unit visit www.cocmu.com or @tamu_ccmu.