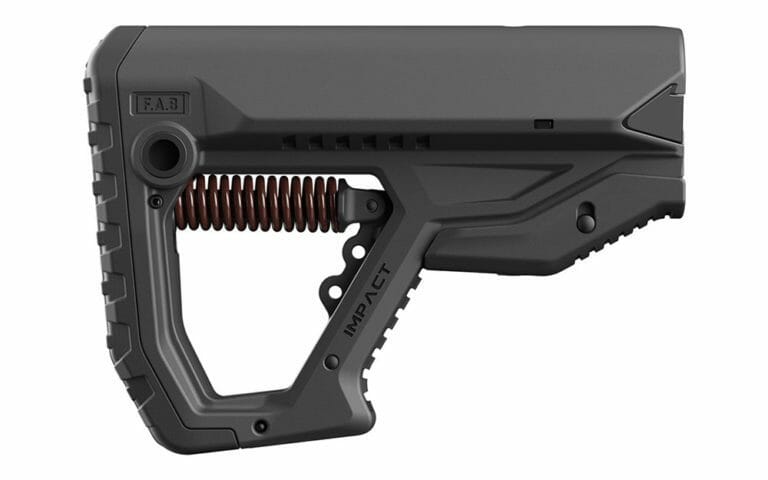 U.S.A. -(AmmoLand.com)- F.A.B. Defense is pleased to announce the release of adjustable GL-CORE IMPACT as a replacement for the fixed setting GL-Shock. The GL-CORE IMPACT is the latest addition to the F.A.B. Defense's newly developed CORE line of a premium carbine, AK, and shotgun stocks.
The F.A.B. Defense GL-CORE IMPACT is a shock-absorbing stock with three settings suitable for light to heavy recoil firearms. The Original GL-Shock was one fixed setting, and the GL-CORE IMPACT improves on this while modernizing the overall look and feel. Through the use of
included adapters, the GL-CORE IMPACT will mount to any mil-spec or commercial AR15 buffer tube. It can be easily adapted to mitigate the recoil to levels comfortable for each individual user. Available in Black, OD Green, and FDE colors.
F.A.B Defense GL-CORE IMPACT Features
Three recoil management settings
Optional cheek riser for weapons with elevated optics.
Multi-textured rubber butt-pad for secure shouldering during rapid fire
Interchangeable Mil-Spec and Commercial buffer tube adapters
Includes ambidextrous quick detach rear sling swivel connectors
The GL-CORE IMPACT is available immediately through the nationwide dealer network or online at www.fab-defenseus.com
GL-Core IMPACT MSRP: $123.99
GL-Core IMPACT with Core CP MSRP: $150.99
---
About FAB Defense:
F.A.B Defense is the International leader in the development and manufacture of high quality, cutting-edge tactical equipment, and weapon accessories. All F.A.B. Defense products are designed in collaboration with Special Forces and SWAT teams worldwide to provide superior ergonomics, functionality, and durability, reflecting decades of design experience. F.A.B. Defense is a registered trademark of F.A.B. Manufacturing & Import of Industrial Equipment Ltd.  F.A.B. Defense is exclusively distributed in the USA by USIQ / The Third Bull & Co.