U.S.A. -(AmmoLand.com)- Putting optics on revolvers like the Taurus TORO isn't anything new – handgun hunters have been running scout scopes on big-bore wheel-guns for years. But the engineers at Taurus have a totally different take on this premise – a micro red dot on a concealed carry revolver!
Taurus TORO Revolvers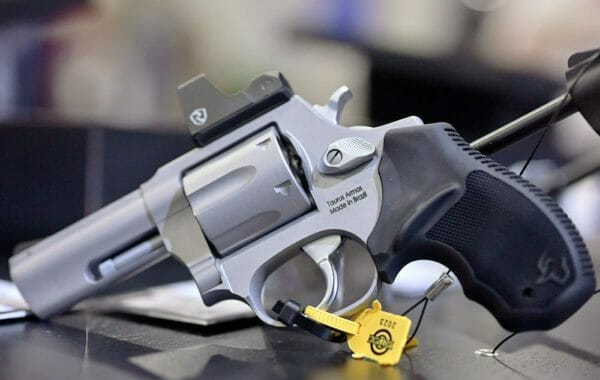 Taurus unveiled a pair of budget-friendly optics-ready TORO revolvers at SHOT Show 2023, and after spending a little time with both, I am smitten. The first is the Taurus 605 TORO, a five-shot double/single-action .357 Magnum revolver for shooters who want to carry a big bore blaster is a compact package. The second design is the Taurus 856 TORO chambered in .38 special that holds six rounds in its cylinder and, like the other gun, is both double and single action.
I had a chance to shoot both at the Media Day at SHOT 2023, and both were incredibly fun with the addition of a micro-reflex sight. The footprint on both revolvers is the same: a Holosun K concealed carry optic mount. This strikes the perfect balance of concealability and usability. And given the notoriously difficult-to-see sights on most carry snub-nose revolvers, it really increases their usability. Both guns will retail for around $450, so street prices will be around $20-$30 cheaper.
For more information visit www.taurususa.com/
---
About Jim Grant
Jim is one of the elite editors for AmmoLand.com, who in addition to his mastery of prose, can wield a camera with expert finesse. He loves anything and everything guns but holds firearms from the Cold War in a special place in his heart.
When he's not reviewing guns or shooting for fun and competition, Jim can be found hiking and hunting with his wife Kimberly, their son, and their dog Peanut in the South Carolina low country.