What makes a competition rifle, like the Stag 15 3Gun Elite, different than your standard AR-15, or home defense rifle? 
U.S.A. –-(Ammoland.com)- This will come as no surprise, but not all rifles are created equal. That fact will never become more evident until you shoot in a competition like 3 gun.
I will not tell anyone they need to buy a "competition gun" to shoot competitively. Whatever 3 guns you have, take them to the next match you can.
You will be hooked on running and gunning. You will also realize your limitations as a shooter and the limits of your guns. Skill ultimately wins the day, but a good rifle can shave seconds off your time. In a competition, those seconds are the difference between first and second place.
Stag Arms is well known for building quality AR-15s and designing AR rifles for right and left-handed shooters. Stag also caters to the specific caveats of shooters with different models like the Stag Tactical or 9mm rifles.
If you are looking for your next AR that has all the bells and whistles required of a competition rifle, I present the Stag 15 3Gun Elite.
My first thought was this would be a lot of gun to shoot unsupported. Fitted with an 18" fluted stainless steel heavy profile barrel, the gun is undeniably heavier than your 16" CMV barrel rifle. Without a scope, or mag the gun weighs about 7 ½ lbs, this is not at all a lightweight build.
With that said, the weight became less noticeable within a few hundred rounds of shooting. Now my old AR feels like a feather, and the Stag feels like a normal rifle's weight. Stag has also gone the extra step of fluting the barrel, shaving a few ounces of weight off the barrel.
Obviously, the benefit of a longer barrel is better velocities that contribute to better accuracy, especially when pushing the limits on a 55gr .223 round.
During my last competition at Peacemaker National Training Center, there were two stages that had rifle targets at longer ranges, between 100 yards and 500 yards. Shooting off of a "tank barricade" I was able to hit my target at 500 yards with one shot.
Surrounding the barrel is a lightweight 16.5" free-floated M-LOK handguard. The new Stag 15 M-LOK SL handguard is the best of both the competition and "tactical" worlds. The full picatinny top rail and 3 sections of rail toward the muzzle, allow for any number of attachments. There are also three QD attachment points for button style slings.
Most important, the SL handguard gives the shooter a good ergonomic grip that is slim enough to slide into and out of barricades and window slits. To put it simply, I am a very big fan of this handguard.
While shooting long distances supported is all well and good, 3 gun will inevitably find you on you shooting unsupported. Clearing a plate rack at 75 yards, unsupported, was a non-issue with the 3Gun Elite in my competition. Part of what made those quick transition shots no problem was the muzzle device, the Stag 3G Compensator. The compensator was very effective at managing recoil and accelerating follow-up shots.
As a side note, the compensator is large enough that Stag could easily pin it to a 14" barrel. A shorter barrel is something I think Stag should consider adding to their upper receiver line they have for this rifle.
The big thing anyone looks for in a competition gun is the trigger. Similar to the form of their handguard, Stag opted for the best of competition and tactical shooting worlds.
Equipped with a Geissele Super 3-Gun Trigger the rifle is essentially an 18" nail driver. The single stage trigger, has almost no reset travel, a very audible reset, and a pull weight under 3lbs. It is begging to be squeezed. For competitions, I much prefer the single stage Super 3-Gun trigger to my double stage Super Tricon trigger from Geissele. Follow up shots are so incredibly easy on the single stage, and breaking the trigger is so crisp that it is very difficult to "jerk" the trigger.
Disclaimer: Make no mistake, this trigger is light. It deserves the full respect of the shooter. I would advise at least 200 rounds of practice before taking it into a competition where an accidental discharge. is not only dangerous but an automatic disqualification.
If I had one nit to pick with Stag, it would be on the furniture. This may just be my preference, but on my competition rifle I like a fixed-adjustable stock, such as the Luth-AR MBA-1. Also an overmolded pistol grip, with more texture than the Magpul grip.
Furniture is superficial, and it is far less important than what goes into the rifle. I've not mentioned that the rifle is available with a nickel boron BCG and ambidextrous controls.
Remember when I said all the bells and whistles?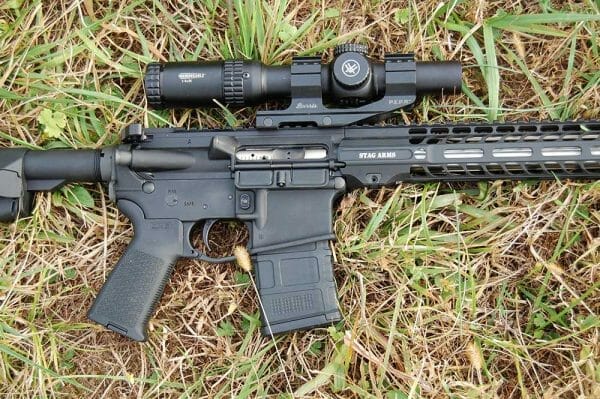 Out of the box, I took this to 3 gun training day with Origin Shooting and shot 150 rounds, encountering only two stoppages (55gr Federal FMJ). Then I went and shot some video with the rifle, shooting another 250 rounds, this time without a single issue. Finally, I went and shot a 3 gun competition in November, with freezing rain and harsh cold winds. The rifle ran flawlessly.
I never cleaned or lubed the rifle once. I removed it from the box and went shooting.
Besides an impressive track record of reliability, the Stag 15 3Gun Elite also has everything you need in a competition setting.  Stag took time in working with their competition team to develop a rifle that really is suited for scenarios in competition shooting like 3 gun. I can speak to that first hand, seeing as I shot a 3 gun competition with this rifle.
Best of all, Stag Arms is not adding an insane price tag to their rifle. They also give you the option of removing the NicB BCG and ambidextrous controls for a little less cash. Compared to other rifles in the same category, Stag's offering amazing features at a price that is perfect.
The Stag 15 3 Gun Elite claims to be an "out-of-the-box, competition rifle". It meets those claims head on and is ready for the next match without hesitation.
---
---
About Duncan Johnson: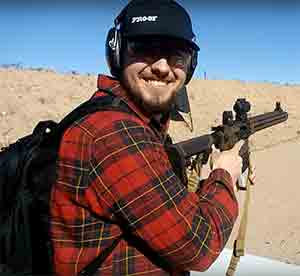 Duncan is a firm believer in the Second Amendment and that "shall not be infringed", means exactly that.  A life-long firearms enthusiast and a graduate of George Mason University, now competing regularly in 3 gun competitions, Duncan is always looking to improve his shooting skills. Duncan is a regular contributor to AmmoLand and assists in the everyday gun-news publishing as an assistant editor.