Mullins & Cogdell Win Trap Titles at USA Shooting National Championships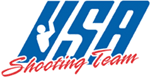 COLORADO SPRINGS, Colo. – -(AmmoLand.com)- The 2009 USA Shooting National Shotgun Championships came to a close at Ft. Carson's International Shooting Park today with John Mullins and 2008 Olympic bronze medalist Corey Cogdell earning national titles in the Trap event.
Mullins (Bremerton, Wash.) took the top spot for the men with 265 total targets. Jacob Turner (Richland, Wash) finished right behind Mullins in second place with 264 targets and in a shoot-off for third place, three-time Olympian and 1996 bronze medalist Lance Bade (Colorado Springs, Colo.) shot five targets defeating Richard Valdez (Canon City, Colo.), who shot four targets. Both shooters ended the final with 263 targets. U.S. Army Marksmanship Unit (USAMU) member Ryan Hadden (Pendleton, Ore.), the 2009 World Cup Cairo and San Marino gold medalist, ended in fifth place with 262 hits, while Max Jolliff (Fredericksburg, Texas) took the sixth spot with 259.
For the second year in a row, Turner also finished in first place for the junior men with a total of 263 hits. Jake Wallace (Castaic, Calif.) took second place with 258 after a two to one shoot-off with Morgan Harbison Famersville, Texas), who finished third. Shane Herman (Peyton, Colo.) ended in fourth place with 255 hits, while Matthew Gossett (Springville, Ala.) earned fifth place after a shoot-off with Garrett Walters (Burr Oak, Mich.).
In the women's competition Cogdell (Eagle River, Alaska) took home the National Championship after shooting a total of 250 targets. Kayle Browning (Wooster, Ark.) finished second with 247 targets and Tamara Desso (Castaic, Calif.) grabbed the third spot with 245 total hits. Last year's National Champion Miranda Wilder (Diana, Texas) earned fourth place with 243 hits and 1996 Olympian and USAMU member Theresa DeWitt (Cincinnati, Ohio) defeated Caitlin Barney-Weinheimer (Ingram, Texas) in a shoot-off to finish in fifth place with 241 targets.
Browning took first place for the junior women with 247 hits, while Wilder finished second with 246 and Desso grabbed third with 244. Stacey Schroeder (Washington, Mo.) earned fourth place in a shoot-off with Barney-Weinheimer, who took the fifth spot, and 2009 Cairo World Cup bronze medalist Rachael Heiden (Clinton, Mich.) took sixth place with 240 targets.
The first ever final was held in the senior category at the 2009 USA Shooting Shotgun National Championships with 2008 Olympian Dominic Grazioli (San Antonio, Texas) taking the top spot with 256 hits. Mike Herman (Peyton, Colo.) finished right behind Grazioli in second place with 255 total targets and DeWitt took third with 250. Guy Avedisian (Ocala, Fla.) grabbed fourth place with 248, while Maxey Brantley (New Braunfels, Texas) and Dick Lichtenberg (Bellevue, Wash.) finished fifth and sixth with 244 and 236 targets respectively.
Complete Shotgun National Championship results can be found by visiting the Match Results page of USA Shooting's website at www.usashooting.org.
About:
Winchester Ammunition is a Proud Sponsor of the USA Shooting Shotgun Team
Winchester® Ammunition has been the exclusive ammunition sponsor and supplier of the USA Shooting Shotgun Team since 1999. Members of the 2008 shotgun team brought home four medals from Beijing using Winchester AA International Target loads. Winchester is an industry leader in advancing and supporting conservation, hunter education and our country's proud shooting sports heritage. For more information about Winchester and its complete line of products, visit www.winchester.com.