Matt Emmons Captures World Cup Final Gold in Men's 3P Shooting Event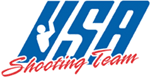 WUXI, China –-(AmmoLand.com)- For the third year in a row, two-time Olympic medalist Matt Emmons (Browns Mills, N.J.), claimed the gold medal in the Men's 50m 3 Position Rifle event at the ISSF Rifle/Pistol World Cup Final.
Emmons won today's match and was a fan favorite among the Chinese spectators, as he took home the gold with a total score of 1277.3 points (1177+100.3), climbing from third place by shooting the second highest final score and securing the win with an excellent 10.8 on his last shot. While he was moving up the scoreboard to win the match, the Chinese fans rallied their support for Emmons and cheered for him as he climbed into first place.
"I realized they were cheering for me. That's awesome. It's an emotion I cannot describe," said Emmons after the match. "USA and China are often rivals in these Olympic competitions, but this audience made me feel like I was at home."
Emmons came back to win the gold today after a disappointing tenth place finish in yesterday's 50m Prone Rifle event.
"I am thrilled about this victory," he added. "I changed my sightings after the Prone event, and I was quite confident as I walked into the finals hall today. It has been a great day."
This is the fifth World Cup Final win for Emmons since 2002.
Today's leader going into the final, Han Jinseop of Korea, finished in second place behind Emmons, grabbing the silver with 1274.6 points (1180+94.6). Norwegian shooter Ole Magnus Bakken grabbed the bronze with a total score of 1270.0 (1180+90.0).
Eighty-five athletes from around the world gathered in Wuxi, China October 26-28 to compete for a World Cup Final title. These athletes qualified for the 2009 World Cup Final based on individual performances in the ISSF World Cup circuit throughout the year. Competition at the 2009 ISSF World Cup Final for shotgun will begin on October 31 in Beijing, China and will run through November 2.
For complete World Cup Final results, please visit ISSF's website at www.issf-sports.org.
ELEY is a Proud Sponsor of the USA Shooting Rifle and Pistol Teams:
ELEY Limited, manufacturer of the world's most consistently accurate rimfire ammunition, has been the Official Sponsor and Official Supplier of .22 rimfire ammunition of the USA Shooting rifle and pistol teams since 2000. For more information on ELEY and their products, please visit https://www.eley.co.uk/.