Champion Targets Expands DuraSeal Lineup Adds Additional Target Options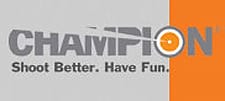 ONALASKA, Wis. –-(Ammoland.com)- Champion Traps and Targets unveils new radiation green DuraSeal targets and practice systems for 2011. These new offerings deliver instant feedback for hours of non-stop shooting fun.
Striking Contrast
New DuraSeal Radiation Green spinning targets offer excellent contrast in all shooting environments. Ultra-bright color reduces eye fatigue for shooters straining to see their shots. Targets are auto-resetting, and wobble or spin on impact to indicate positive hits. DuraSeal's non-metal, self-sealing construction lets bullets pass through with minimal damage—dramatically prolonging the life of the target.
"The visibility of these radiation green DuraSeal spinners is amazing," said Champion Product Marketing Manager, John Huse. "The single and triple targets make improving your shooting skills easier and more effective."
Additional 2011 Shooting Accessories
An array of new target systems and shooting accessories complete the 2011 Champion lineup. Benchrest Paper 100 and 200-yard targets deliver easy and reliable performance tracking. Shooters can see the difference with Green LE B-27 Silhouette Targets that provide a quality personal defense or law enforcement training option.
Adhesive Targets enable shooters to get set up quickly. Bug and Fly Precision targets offer a fun alternative for precision shooting practice. All of these new offering continue to make shooting practice fun for the entire family. Check out the new Precision Bug and Fly targets online, at www.championtarget.com/targets/paper/animal/insect.aspx.
Part No. and Description
44800 Single 5.5" Green DuraSeal Diamond Spinner
44802 Single 7" Green DuraSeal Crow Spinner
44804 Single 5.5" Green DuraSeal Varmint Spinner
44806 Triple 5.5" Green DuraSeal Varmint Spinner
44808 Double Gong Green DuraSeal Spinner
45774 6-inches x 6-inches Adhesive Target, Orange 10-Pack
45775 13-inches x 13-inches Adhesive Target, Orange 10-pack
46000 100-yard Benchrest Paper Target
46002 200-yard Benchrest Paper Target
41900 DuraSeal Double Spinner
40735 LE B27FSA Silhouette Target; Green, 10-Pack
46020 Precision Fly Paper Target
46022 Precision Bug Slug Paper Target
To learn more about the DuraSeal line of targets, and all of the great shooting accessories from Champion, go to www.champtiontarget.com.