University of Kentucky HandGuns in Cars Lawsuit Heads to KY Supreme Court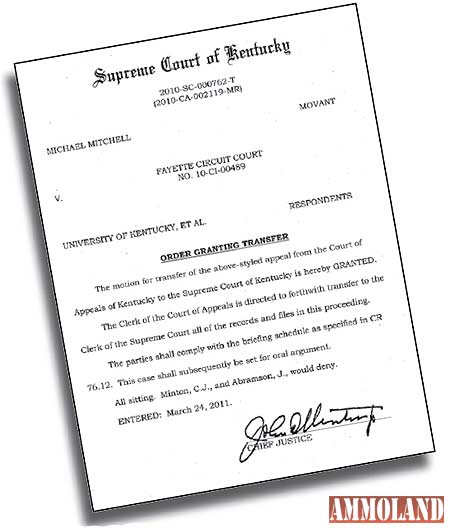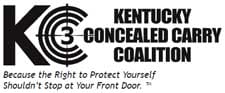 Frankfort, Ky –-(Ammoland.com)- Just this week our attorneys were notified by the Supreme Court of Kentucky that they would hear the appeal of the lawsuit brought by Michael Mitchell against the University of Kentucky, charging them with wrongful termination.
The gist of the case is this: Mr. Mitchell was employed by UK at the medical center and when his supervisors learned that he had a fi rearm in his car, in the parking lot at Commonwealth Stadium, they seized his legally-stored handgun and subsequently terminated his employment.
Mr. Mitchell contacted KC3 and we agreed to support him in his suit for damages against UK.
Our attorneys, Stephen Wides and Christopher Hunt of Lexington, brought the suit in Fayette circuit court. The judge ruled against them and for UK. They decided to skip the Court of Appeals and proceed directly to the Supreme Court and have been successful. As of this time no date has been set for the arguments but the justices voted 5-2 to put the case on the docket.
UK has maintained that they have a unique right to keep people from having firearms in cars on their lots, in a bizarre reading of the statutes that is inconsistent with the application of the law in every other circumstance in the state. Nowhere else may a school or employer bar anyone from having a fi rearm in their car as long as it's not removed from that car or brandished. Yet UK feels justified in their incomprehensible interpretation of the statute, and used that to justify fi ring Mr. Mitchell.
Now the case is moving to the highest court in Kentucky where we're confident that that they'll KC3 has funded this lawsuit exclusively We will soon have donation buttons on our Mr. Mitchell has suffered an indignity at the hands of these bureaucrats, who've displayed an arrogant disregard for his rights and the law. Now we stand poised to make them pay for that indignity and to establish that the colleges in Kentucky are also bound by the same laws that govern our citizens.
About Kentucky Concealed Carry Coalition:
Since 1994, KC3 has led the struggle to secure your right to carry a legally concealed weapon
for your defense and the safety of your loved ones. Visit: www.kc3blog.blogspot.com