Zinnel to Help Mule Deer Foundation Teach 10,000 Youth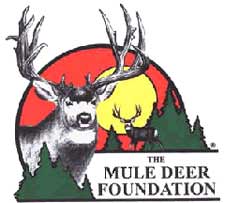 SALT LAKE CITY, Utah –-(Ammoland.com)- Introducing about 10,000 youngsters to the shooting sports each year is one goal of the Mule Deer Foundation's (MDF) new education initiative.
MDF announced today that it has hired outdoor educator Jon Zinnel as its Youth Programs Coordinator to help meet and exceed that goal.
"Jon shares our vision and enthusiasm for using best practices to recruit and mentor new hunters, shooters and conservationists," said MDF President and CEO Miles Moretti, adding "He knows that we are not only passing along our hunting heritage, but we are also creating future conservation leaders."
Zinnel, an avid hunter and former national 4-H Shooting Sports Ambassador, will work with field directors, partners and many of the MDF chapters to expand the successful M.U.L.E.Y. (Mindful, Understanding, Legal, Ethical Youth) Program, according to MDF's Chief Operating Officer Eric Tycksen, who oversees the organization's strategic education initiative. He gave credit to member volunteers and MDF Sponsor Larry Potterfield and MidwayUSA for funding the program.
Zinnel said, "I've watched the Mule Deer Foundation's growth, seen its friendly, cooperative approach with partners, and seen what a great position it's in to really make a difference for the future of hunting. I am excited to be a part of building that future."
In recent months, MDF has already announced partnerships with the Youth Shooting Sports Alliance, Pass It On – Outdoor Mentors, Congressional Sportsmen's Foundation and other partner companies and organizations.
Zinnel is an NRA certified firearms instructor in multiple disciplines, a rangemaster and a Basic Archery Instructor Trainer for the National Archery in the Schools Program. Before moving to MDF, he was Coordinator of the American Wilderness Leadership School and youth education programs for the SCI Foundation.
About MDF (www.muledeer.org)
The Mule Deer Foundation is one of the key conservation groups in North America working to restore, improve and protect mule deer, black-tailed deer and their habitat. With a focus on science and program efficiency, MDF has raised millions of dollars and put countless man-hours on the ground for conservation and related projects. MDF also acknowledges regulated hunting as a viable management component and is committed to recruitment and retention of youth into the shooting sports and conservation. Get involved at www.muledeer.org or call 1-888-375-DEER.