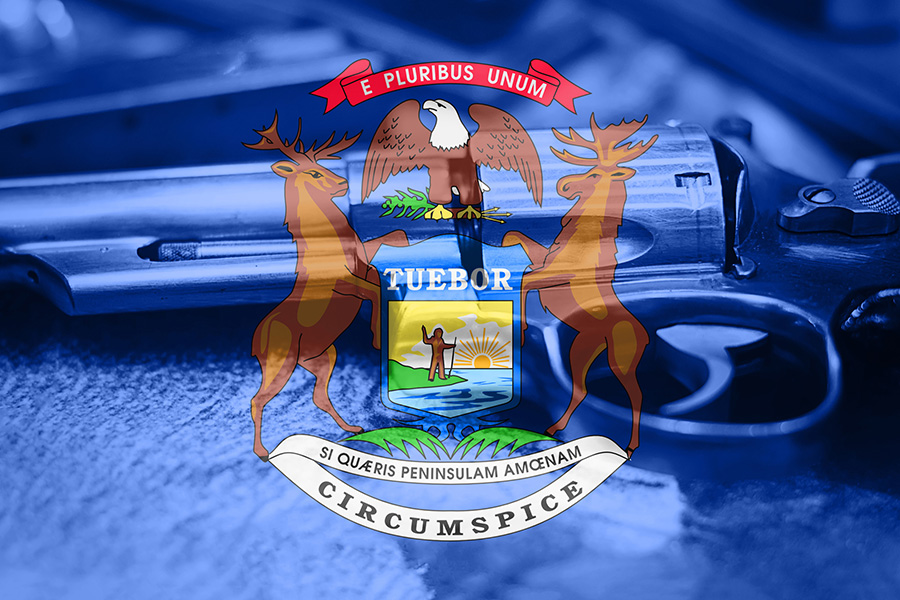 Charlotte, NC –-(Ammoland.com)-  The Michigan House of Representatives could vote on House Bill 5225 as early as June 13.
HB 5225 is a landmark pro-gun bill that would eliminate the state handgun "permit-to-purchase" and registration requirements.  HB 5225 and its amended language have already passed in the Michigan House Judiciary Committee and would require the federal standard of background checks for the purchase of handguns instead of the burdensome, unnecessary and duplicative state "permit" system.
HB 5225, sponsored by state Representative Paul Opsommer (R-93), as amended, would repeal the bureaucratic state "permit-to-purchase" handguns which became obsolete when the National Instant Criminal Background Check System (NICS) took effect in 1998.  Under the current state system, gun buyers must apply with their local law enforcement agency and pass a written test before being authorized to buy a handgun.  This "permit" is valid for only one gun and it expires after ten days.  Since 1998, federal law has required a national criminal records check for the purchase of any firearm, from any gun dealer, in every state.
Some of the key points of HB 5225 as amended are:
Repeal the state requirement to seek police permission to purchase a firearm by traveling to a local police station and obtaining a permit to purchase.
Repeal the requirement to register a completely legally purchased and owned firearm by a law-abiding citizen to be registered with the government through the police.
Adopt the use of the federally-funded National Instant Criminal Background Check System.
Default to the federal standard of prohibited persons and each purchase would still require a background check.
CutMichigan's costs by using the federally-administered instant background check system and eliminate wasted man-hours of tracking lawful gun owners in Michigan.
The NRA has been working diligently to repeal this antiquated, costly, and unnecessary obstacle for gun owners and has coordinated with several state Representatives to produce the new language for HB 5225.
This bill has made major progress despite the sudden opposition of the Michigan State Police (MSP).  Although the MSP expressed their neutrality since HB 5225's introduction, they changed their position at the last minute and have tried to sabotage its passage.  At this time, the MSP is officially opposed to HB 5225 and will be working against our attempts to repeal these obsolete state laws.
This is not the first time that the MSP has been on the wrong side of an important pro-gun bill.  For example, during the concealed carry debate, the MSP actively opposed that bill claiming that law-abiding citizens were not responsible enough to carry firearms for self-defense and that violent crime would skyrocket.  They have been proven wrong on concealed carry and they are wrong to oppose a rights restoration bill such as HB 5225.
---
About NRA-ILA

Established in 1975, the Institute for Legislative Action (ILA) is the "lobbying" arm of the National Rifle Association of America. ILA is responsible for preserving the right of all law-abiding individuals in the legislative, political, and legal arenas, to purchase, possess and use firearms for legitimate purposes as guaranteed by the Second Amendment to the U.S. Constitution. Visit: www.nra.org