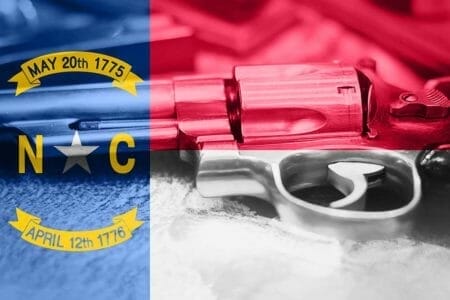 Charlotte, NC –-(Ammoland.com)-  Anti-gun legislators in the North Carolina House have introduced House Bill 1192, a bill that would gut the "Stand Your Ground" provisions of House Bill 650, the NRA-backed omnibus firearm bill that was enacted just last year.
Please contact your state Representative TODAY and urge him or her to stand up for the right to self-defense for law-abiding North Carolinians, and oppose HB 1192.
House Bill 1192, sponsored by state Representative Alma Adams (D-58), was introduced in an apparent attempt to exploit the Trayvon Martin shooting in Florida that has received so much sensationalistic anti-gun coverage from the media.  This bill, if passed and enacted into law would eliminate the protections established in HB 650 for a law-abiding citizen who uses a firearm for self-defense if faced with a violent criminal attacker while away from the home. The NRA strongly opposes this bill, and will work to defeat this legislation along with any other attempts to weaken self-defense laws in North Carolina.
---
About NRA-ILA

Established in 1975, the Institute for Legislative Action (ILA) is the "lobbying" arm of the National Rifle Association of America. ILA is responsible for preserving the right of all law-abiding individuals in the legislative, political, and legal arenas, to purchase, possess and use firearms for legitimate purposes as guaranteed by the Second Amendment to the U.S. Constitution. Visit: www.nra.org