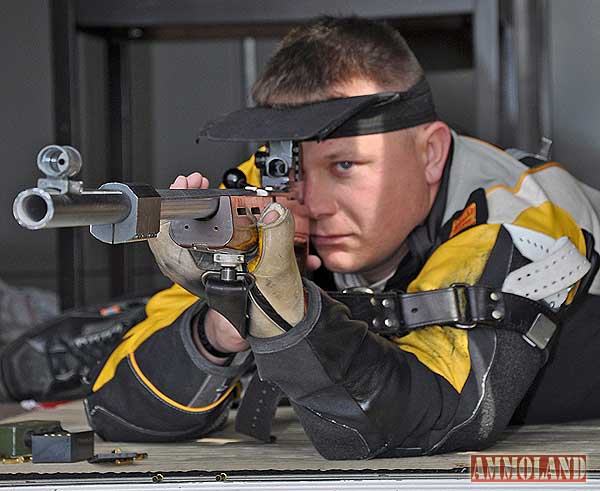 COLORADO SPRINGS, Colo. –-(Ammoland.com)- Sergeant First Class Josh Olson (Spokane, Wash.) knew the field would be tough in Mixed 10m Air Rifle Prone SH1. Competing in his first event in his first Paralympic Games, Olson finished 28th with 595 points.
Both National Paralympic Coach Bob Foth and Olson knew it would take a perfect 600 or at least 599 to make the final, but neither expected this – eight flawless performances of 600 dominated the final.
"There were 20 or 30 people on that firing line who were capable of shooting 600-including Josh," said Foth. "They have all done it in training and matches, but scores were exceptionally high today."
Olson struggled on the third shot of the match dropping one point to finish his first string with 99/100 points. His second string-a 98-was a tough pill to swallow, but he persevered and finished strong with 99-100-100-99 for 595 points.
"Josh had a solid performance, but today wasn't his day," said Foth. "Knowing that it took a perfect 600 to even make the final, he put everything on the line and I am pleased with his effort. He gave 100 percent in his first event in his first Paralympic Games. I'm hopeful that what both [Josh and Eric Hollen] learned in their first event will help them come in and get the job done in their second events."
France's Cedric Fevre won the gold medal with a new Final World Record of 706.7 total points. He was followed by crowd favorite and silver medalist Matthew Skelhon of Great Britain with 706.4 points and China's Cuiping Zhang at 705.8 points for the bronze.
The American shooters have a brief reprieve to recuperate and prepare for their next events. Olson competes on Tuesday and Hollen on Thursday, Sept. 6.
2012 Paralympic Games Shooting Schedule featuring Eric Hollen & Josh Olson
Saturday, Sept. 1 – 13:15 Mixed R# 10 M Air Rifle Prone Qualification; 16:00 Air Rifle Prone Final
Tuesday, Sept. 4 – 9:00 Mixed 50m Rifle Prone Qualification; 11:30 Mixed 50m Rifle Prone Final
Thursday, Sept. 6 – 13:10 Mixed Free Pistol Qualification; 16:50 Mixed 50m Free Pistol Final
All events indicated in London GMT
If you are seeking more information on the Games, including an athlete roster, please visit USParalympics.org, which is the United States Olympic Committee's hub for news, photos and videos during the Games.
---
About USA Shooting

USA Shooting, a 501c3 non-profit corporation, was chartered by the United States Olympic Committee as the National Governing Body for the sport of shooting in April 1995. USA Shooting's mission is to prepare American athletes to win Olympic medals, promote the shooting sports throughout the U.S. and govern the conduct of international shooting in the country. Check us out on the web at www.usashooting.org and on Twitter at twitter.com/USAShooting.