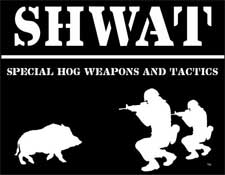 Abilene, Texas –-(Ammoland.com)- Do you have any big projects planned this year? We sure do!
You already know about the mammoth sized Grandpa's Gun Reborn project (where a very basic Remington 700 becomes a long range precision gun).
Look for the second installment of that series next week.
We're also bringing you our Top Ten Tactical Hog Hunting Optics project this year. Some will be magnified optics, some 1x, and there will be various price points.
Today we start the series with a scope SHWAT Team writer and NRA Field Editor Brian McCombie has bee carrying around the country and using with a couple of different guns, the Zeiss Conquest Duralyt 1.2-5 Scope.
It's the top of the page story now at SHWAT.com.
About Special Hog Weapons & Tactics:
SHWAT is the new center of gravity for tactical hog hunting. Special Hog Weapons & Tactics is a dynamic, game changing lifestyle brand, fusing together the tactical, hunting and feral hog control communities. Quality content and connections are rapidly coming together through partnering with credible industry professionals. Vendors are licensing the SHWAT brand. Conversations are growing on Facebook, Facebook.com/SHWATteam. That quality extends from our community and contributors, including our sponsors and writers, bloggers and videographers. Visit: www.shwat.com