Wilsonville, OR – -(Ammoland.com)- The National Shooting Sports Foundation, the trade association for the firearms industry, has signed on as an exclusive sponsor of Crimson Trace's 2nd Annual Midnight 3-Gun Invitational.
The side match that the NSSF is sponsoring at the event will introduce competitors to many of Crimson Trace's new green laser products—and some competitors to a new level of 3-Gun strategy.
"The explosive growth of 3-Gun has been an awesome thing to see over the past few years, and we look forward to seeing that growth continue," said Chris Dolnack, NSSF Senior Vice President and Chief Marketing Officer. "NSSF is proud to support the Crimson Trace Midnight 3-Gun Invitational."
The event will be held in Bend, Oregon, beginning August 14.
More than three dozen media members —and more than 150 competitive shooters— from across America will converge on the gun range to report on, or participate in, more than a dozen shooting lanes and unique gunning challenges. Each challenge will be different—and shot in the cover of darkness. Shooters have to be alert and extremely focused to earn winning scores. Laser sights and Crimson Trace lighting products will help conquer the challenges shooters face—and add to the thrills and visual display.
"Crimson Trace is proud that the National Shooting Sports Foundation has decided to participate in this growing event that began as a small investment to highlight the shooting sports and the many companies in the Pacific Northwest that are involved in the industry," said Kent Thomas, Crimson Trace Director of Marketing. The Midnight 3-Gun Invitational is the nation's only night competition.
3-Gun events are growing in popularity across America and involve the use of handguns, rifles and shotguns as competitors race a time clock and shoot a wide variety of targets to earn points. To learn more, visit www.crimsontrace.com. To find a range near you that hosts 3-Gun competitions, visit www.wheretoshoot.org.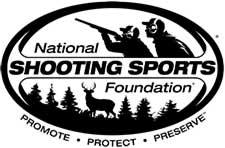 About NSSF
The National Shooting Sports Foundation is the trade association for the firearms industry. Its mission is to promote, protect and preserve hunting and the shooting sports. Formed in 1961, NSSF has a membership of more than 8,000 manufacturers, distributors, firearms retailers, shooting ranges, sportsmen's organizations and publishers. For more information, log on to www.nssf.org.
ABOUT CRIMSON TRACE:
Crimson Trace, the acknowledged industry leader for laser sighting systems, is based in Wilsonville, Oregon.  Its award-winning innovations include Lasergrips and Laserguard with red and green lasers, as well as Lightguard – all with Instinctive Activation . Additionally, the company's product line includes the Best-in-Class Defender Series and Rail Master platforms – all of which are proudly designed, engineered and manufactured in the USA. More details are available at: www.crimsontrace.com or by calling 800-442-2406.