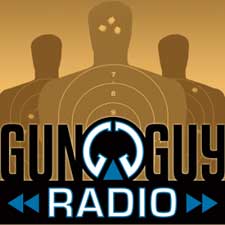 DeKalb, IL –-(Ammoland.com)-  On episode 95 of Gun Guy Radio Jake gives us a new perspective on thankfulness and a look at some old guns.
In the spirit of Thanksgiving many people focus on the direct blessings in their life, but fail to consider how they were put in the position to obtain the things for which they are thankful.
Jake reminds us of the sacrifices that were made by those who came before us and laid the foundation for the relative freedom and prosperity that we all enjoy.
The listeners of GGR are thankful for their firearms and recognize that America's firearms heritage extends back to the original Pilgrim settlers.
Jake takes us through a retrospective of some of the guns of early America including the oldest known American gun, which is John Alden's wheellock carbine, now housed at the National Firearms Museum, that arrived in America on the Mayflower.
Early american rifles came with a variety of actions including match lock, wheellock, and flint lock, with each creating improved reliability over its predecessor.  These types of rifles were generally in use from 1620 when the Mayflower landed to the American revolution.  All were, of course, black powder, muzzle loading, smooth bore muskets that are generally foreign to many modern firearms enthusiasts.  Nevertheless, skilled marksmen could fire three shots per minute, especially if using paper cartridges.  The settlers and colonists generally used them for all purposes including hunting and self-protection.  The settlers and colonists might also have had a blunderbuss, but handguns were rare for the earliest settlers.
In this week's Product Spotlight, Paul Levy of Brownell's highlights the Streamlight TLR-1 Gamespotter.  This light has a traditional TLR-1 body with a larger lens and a green LED that emits green light which does not typically spook game.  Although the standard TLR-1 is generally thought of as a handgun light, this is much more practical for rifles.  The TLR-1 Gamespotter mounts to 1913, Glock, Walther, and Beretta style rails.  It provides up to 200 lumens which will reach as far as 400 meters.
Gun Guy Radio listeners will be happy to hear that the December 1, 2013 episode will be the first of four consecutive weeks of give away of $100 gift cards to Duluth Trading Co.
If you can't get enough of Gun Guy Radio, you can be part of the staff.  The Firearms Radio Network is looking for an Assistant Producer/Co-host for the weekly Gun Guy Radio podcast.  For a full description of the skills and tasks associated with this position please contact Jake Challand.
Listen to the entire episode at www.gunguyradio.com/095/ or subscribe to the show on iTunes.  Visit the Firearms Insider Community at www.firearmsinsider.tv.
About Gun Guy Radio:
Gun Guy Radio is an on demand talk show that stays positive and leaves out the politics. The podcast features a variety of popular guests that cover a wide range of topics that firearms enthusiasts crave. Each episode delivers entertainment, education and encouragement that expands firearm ownership and knowledge to the current and next generations. Gun Guy Radio is found on the Firearms Radio Network and releases every Sunday at 12:00 pm central time. Subscribe to the email list and listen via Apple iTunes, Stitcher Radio or www.gunguyradio.com.
Contact: Jake Challand President Email:
[email protected]
Web:  
firearmsradio.tv