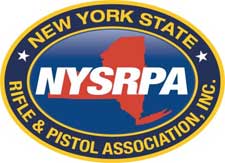 Albany, New York –-(Ammoland.com)- The New York State Rifle & Pistol Association has announced that Association President Thomas King will be guest speaker at the 47th Annual Conservative Party Political Action Conference (CPAC) in Albany.
CPAC is the largest annual gathering of conservative activists in the USA.
King, who is also a member of the National Rifle Association Board of Directors, will discuss the SAFE Act and the state of current litigation against it as well as other topics pertaining to Second Amendment civil rights at the state and national level.
About:
The New York State Rifle & Pistol Association is the state's largest and oldest firearms advocacy organization. Since 1871, our organization has been dedicated to the preservation of Second Amendment rights, firearm safety, education and training, and the shooting sports. Our membership consists of individuals and clubs throughout the state. We are a not-for-profit 501(c)4 organization and the official NRA-affiliated State Association in New York. Visit: www.nysrpa.org