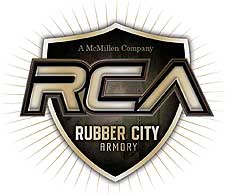 Akron, Ohio – -(Ammoland.com)- The TMB 5.56 Muzzle Brake from Rubber City Armory is an innovative, new muzzle brake design that allows the shooter to tune the venting of gasses, customizing the recoil characteristics of his rifle or carbine to provide straight line recoil and eliminate muzzle movement.
While 223/556 recoil is minimal, normal flash suppressors allow the muzzle to jump and disturb the point of aim. With the TMB 556 the shooter can plug threaded ports in the muzzle brake to redirect gas thus eliminating muzzle jump.
Rubber City Armory's TMB 5.56 Muzzle Brake is machined from hardened 4140 and Blacknitride+  processed with H&M Metals Blacknitride+ .
Built to last and perform strong, this brake is customizable for right or left hand shooters allowing the shooter to direct vented gasses to meet specific needs. The eight vent holes of the last two chambers are tapped to accept supplied stainless vent plugs.
The TMB 5.56 is available at www.rubbercityarmory.com and has a suggested MSRP of $95.00
Rubber City Armory will showcase the TMB 5.56 Muzzle Brake at the 2014 SHOT Show in Las Vegas, NV, January 14-17. You can visit Rubber City Armory in the H & M Metal Processing booth 1919 for a product demonstration.
For more information visit www.rubbercityarmory.com.