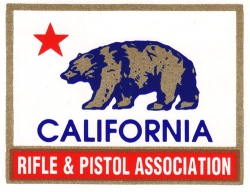 Sacramento, CA –-(Ammoland.com)-We at the California Rifle and Pistol Association (CRPA) are honored to send this letter (below) to you in support of Joel Friedman.
Joel is running for re-election to the NRA Board of Directors and we would like you to consider voting for him if you are a NRA voting member. If you received a ballot in the NRA magazine, then you are a "voting member."
Our rights to lawfully own and use firearms are under constant attack here in California as well as from Washington, D.C. We need a strong voice, from our home state of California, making policies at the NRA that will help protect those rights. Joel Friedman is that voice!
When you vote for the Board of Directors of the National Rifle Association, please consider voting for Joel Friedman from Pasadena, California. The future of our firearms rights are at stake.
Thank you.
My Fellow NRA Voting Members:

I am running for re-election to the NRA Board of Directors and am currently on the ballot.

Although I have been endorsed by the NRA Nominating Committee and many other groups, individuals, and associations, I need your help if I'm to get elected. As you know, I'm not a celebrity or a sports star. I'm simply a businessman who has been a grassroots-level Second Amendment activist for more than two dozen years – right here in California. Only the candidates who finish in the top twenty-five positions will become elected to the NRA Board.

During my many years as a Members' Council President and NRA Board Member and Committee Member, I've been a consistent voice of support for NRA's efforts in California. My no-compromise philosophy is well known throughout the NRA.

I will need you to do two things if I'm to be re-elected:

Vote for me
Send this message to every firearms owner and Second Amendment supporter that you know

During the next few years, we will see unprecedented challenges and attacks to the Second Amendment on the state, local, and national levels. If you allow me to represent you on the NRA Board of Directors, I promise that I will try my best to never let you down.

Below is the short biography about me. If you have any further questions about my qualifications or positions on issues, please do not hesitate to contact me personally.

Thank you, in advance, for your support. I'm honored that you might consider me to represent you.

Joel Friedman
Biography Information
Mr. Joel Friedman – Pasadena, California
Current NRA & CRPA Board Member. Re-Nominated by NRA Nominating Committee. Endorsed by the California Rifle & Pistol Association (CRPA) where he serves as Chairman of Legislative Policy Committee. NRA Benefactor Member. Successful businessman who gained prominence as an NRA grassroots leader. Recreational shooter and reloader. Women's self defense advocate. Believes NRA must never give up the fight, even in the toughest states where anti-gunners are active. Spokesman on the danger of Small Arms Treaties & anti-gun judges. Is the key leader on the team of lawyers, activists and scientists fighting bans on traditional lead-based ammunition. Longtime fundraiser for NRA-ILA. Friends of NRA supporter. Highly effective in defeating anti-gun candidates for political office. Testifies in front of committees against illegal gun controls and supporting the right to hunt. Serves on the NRA Grassroots Development, Urban Affairs, Bylaws and Resolutions, and Clubs & Associations Committees.
About:
The California Rifle and Pistol Association "CRPA," founded in 1875, is dedicated to defending the rights of law-abiding citizens to responsibly use firearms for self-defense and the defense of their loved ones, for sport, and for all other legal activities. CRPA is the official state association of the National Rifle Association. A California non-profit association, CRPA is independently directed by its own Board of Directors. CRPA's members include law enforcement officers, prosecutors, professionals, firearm experts, the general public, and loving parents. CRPA has always worked to reduce the criminal misuse of firearms and firearms accidents, while actively promoting and organizing the competitive shooting sports and Olympic training programs in California. We are proud to say that many CRPA competitors are among the best in the world. Visit: www.crpa.org