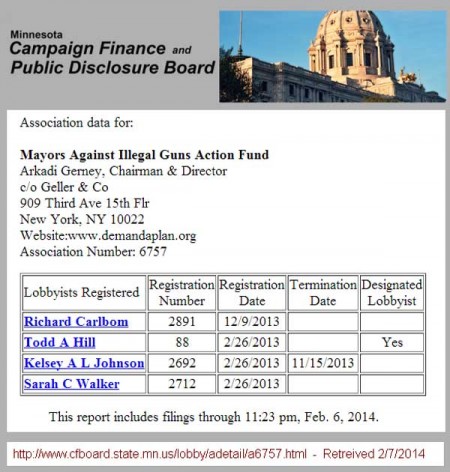 Minnesota –-(Ammoland.com)- Thank you for supporting Gun Owners Civil Rights Alliance ( GOCRA ) to protect your Second Amendment rights.
The legislative session starts next Tuesday, and we expect universal gun registration to be the centerpiece of this year's gun controllers agenda.
We have the same old foes from last year, but this year they are joined with new enemies of liberty with new gun control money, looking to resurrect zombie gun control bills.
What do we have to match that? We have you. More than ever this year, we need your calls, your emails, your presence, and your financial support.
Oh, and we're also giving away a sweet .22 rifle, complete with scope and ammo.
Universal Gun Registration
The words coming from the lips of every gun banner in the last few months has been "Universal Background Checks." When they say this, what they really mean are Universal Registration of your guns. We saw this last year in Rep. Michael Paymar's HF237, which calls for mandatory registration of every private transfer of a pistol or Scary Looking Rifle, including selling an old revolver to a neighbor, or even lending a hunting rifle to a friend.
Old Foes
The ringleaders of gun control in the Minnesota Legislature remain the same: Rep. Michael Paymar of St. Paul, and Sen. Ron Latz of St. Louis Park.
Rep. Paymar has announced that he won't seek reelection after this session. While that's good news in long term, what it means right now is that he has nothing to lose, and will probably go all-out to leave a gun control legacy in Minnesota.
Zombie Gun Control Bills
Because on Minnesota's "Biennium" setup, all of the gun control bills that we defeated last year — "assault weapon" bans, magazine bans, registration fees, carry permit restrictions — are still on the table, and can be reanimated at a moment's notice.
New Gun Control Money
The Chicago-based Joyce Foundation has been funneling money to astroturf anti-rights groups in Minnesota for years. This year, new funding is coming from Wall Street billionaire Michael Bloomberg, former mayor of New York, and his "Mayors Against Illegal Guns." He's hired a group of Minnesota "activists for hire" to push for universal gun registration.
These lobbyists are well funded, well connected, and highly experienced in Minnesota politics. They are led by Richard Carlbom, who successfully led the push to legalize gay marriage in Minnesota. No matter what your views are on that subject, there's no doubt that he was an expert in shaping public opinion with bumper stickers, yard signs, rallies and radio and TV commercials. We can expect the same skill, effort and lavish funding to be used to push for more gun control.
What can we do?
All of that power and money in the hands of the gun controllers can be discouraging, but we have a secret weapon: you. For every gun control advocate in Minnesota, there are hundreds of Minnesota gun owners. If we all get in the game, we can't lose.
Elected official have to know we are here. We have to speak up, exposing the real registration meaning of "universal background checks." You have to organize — finding friends and neighbors that support gun rights, and pulling them in to the effort.
We need to show up — at the Capitol and around the state.. We'll let you know when things heat up at the capitol. Plan on a couple days off on a Tuesday, Wednesday or Thursday in the upcoming months. And we'll spread the word about constituent meetings, town halls and other opportunities to talk directly to your elected officials.
We'll have more .
It's not all about the money, but…
If there was ever a time to step up and contribute financially to gun rights, it's now. And we've made it convenient and almost painless to donate: you can now contribute a small amount — three, five or ten dollars — every month. Please check it out at gocra.org/register.php.
Can't Find .22 Ammo?
We're giving some away — And it comes with a rifle! The best part is, if we have your street address, email, and phone, you're already registered!
If we don't know where you live, you can't win. You can click here to check and update your info.
We'll have a lot more detail in the coming days and weeks. Thank you again for your support, and keep in touch!
Please ask gun owners and civil rights supporters to sign up for these alerts at https://www.gocra.org/join.html
About:We are the Minnesota Gun Owners Civil Rights Alliance, the organization behind CCRN (Concealed Carry Reform Now!). We are people from all walks of life who have banded together to preserve and protect all of our civil rights as gun owners. Visit: www.gocra.org